Ref: https://www.dailymail.co.uk/news/article-6200069/Investigation-reveals-pilot-fault-fatal-flight-killed-four-tourists-Melbourne.html
"When the hurlyburly's done, When the battle's lost and won." – AP Forum version.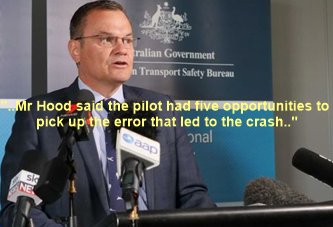 Ref: https://www.abc.net.au/news/2018-09-24/e…d/10295982
Well, it is well and truly over for 2018. Now as the time approaches the 'month of the dead' – (January) and all have sugar plums dancing in their heads; we must decide if the battle is lost, won or has even kicked off. Parliament is buggered; gods alone know what the hell they do down there; but it bears little to no resemblance of 'good governance' or Statesmanship.
---
"Conservatism discards Prescription, shrinks from Principle, disavows Progress; having rejected all respect for antiquity, it offers no redress for the present, and makes no preparation for the future." – Benjamin Disraeli on Future 
---
Hell I've seen better behaviour in borstals, better manners in brothels, more common sense shown by Brickies labourers and more decency and dignity shown at Mathew Talbot hostels. I've no idea which planet the 'politicians' live on – but it certainly ain't one I've visited. The elections loom large and scary; which means months to wait for any sort of action on anything, barring self promotion. They, the new government will spend a six month drinking tea and having meetings – so they can 'get across' a subject (which is a polite way of saying a stallion is about to mount a mare); then, there will be a further delay until 'policy' is formulated and fed through to the minions; then, more delay while the minions work out how best they profit from the 'decisions'. We are up the proverbial creek, sans paddle for at best a 12 month – if we get lucky. Land of the long weekend – great – unless you run an aviation business, haemorrhaging money, operating in a dying market, crippled by regulation and ruled by the asylum lunatics. But enough of the disintegrating way of Australian life, courtesy of useless politicians; we can, for the moment, at least drink the water.
---
A politician thinks of the next election. A statesman, of the next generation. ― James Freeman Clarke
---
Of course, before the politicians have swanned off to enjoy their hard earned; the top dog bureaucrats have finished their 'power' lunches and attended the party rounds – to be seen – to be seen – and to reaffirm old friendships, have departed the fix to enjoy the half million salted away last year; which allows free spending of 'the bonus'. Critters like the caged, yellow, hi-viz wearing Hooded Canary, for example. Oh, a rare species indeed; no mine shafts for this songster; no Siree. Plenty of Soiree though; at which to be feted as the grand master of Smoke and Mirrors. The accolades and bouquets, all sweet music to the man who has thrown up some of the biggest, bestest, brightest bullshit ever created in the history of the art form. The meaning of "Stop Press" has been redefined by Hood, to the department's unconstrained glee. I speak of course of the 'old game' which involves not only throwing up a super smoke screen to shut the media down, but delaying and prevaricating on an investigation until the facts can be massaged to support the gross defamation – of a dead man.
Of course, Quartermain was a gift from heaven. He had 'history'. Whatever happened at Mt. Hotham has never been satisfactorily explained– nor is it likely to be explained; it is tailor made to suit the smokescreen and assist in turning the media away to juicer tales. Hood stood and actively defamed a dead man – why? Well children, the answer is as clear as it is 'Murky'. No one department actually had total responsibility for the monstrosity parked, legal to the millimetre, almost in the emergency zone required by aircraft with a directional control problem. In the USA or Europe the DFO at Essendon would never have been built, not where it stands (today). 'Not safe' says the USA scientific evidence. Not on my watch say's Mark Vaile (Minister) when another concrete lunacy was proposed for Sydney. And yet, with the assistance of Mrdak and our old mate Dolan; liberties were taken at Essendon. As it happened, despite the Hood claim that by the King Air actually hitting the DFO building, lives were saved. Lives were lost – QED.
I say BOLLOCKS.
Hood say's that the pilot omitted his checks –
I say BOLLOCKS and PROVE IT.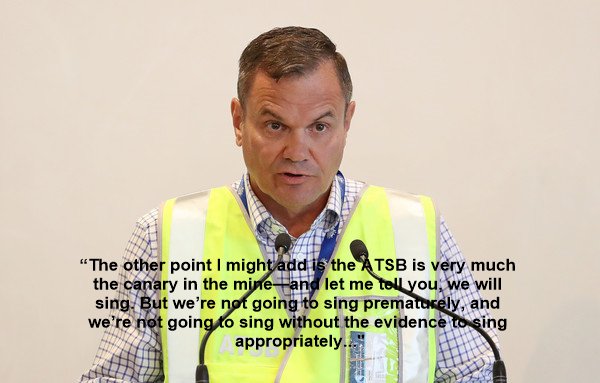 Hood say's "I will Sing".
Sure he will; peach like buggery the moment they try to remove this unqualified Canary from his Golden parachute job. Be a wonderful Christmas present if he did – all the low down on the pigs ear CASA made of Pel-Air and his part (as decision maker) revealed.
---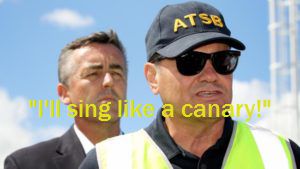 "…The main reason being that while HVH was the CASA Executive Officer ultimately overseeing the enforcement actions against both PelAir and Dominic James I also have, on good authority, information that HVH was the designated co-ordinator/liaison officer dealing with the FAA audit team and therefore the consequential cover-up of the actual FAA findings that could have led to the possible Cat II IASA rating…" 
18 November 2009: Ditching 3 NM south-west of Norfolk Island Aerodrome.

---

18 November 2009: ATSB notified of accident and ATSB subsequently notify CASA. The
ATSB decide to carry out an investigation and CASA decide to run a parallel
investigation, initiated 19 November.

---

19 November 2009: Pel-Air voluntarily suspend Westwind operation.

---

20 November 2009: Quote from page 97 of PelAir MKII Final report – "The ATSB asked CAAF for ATS records for the flight and the weather information that was provided to the flight crew of VH-NGA. CAAF forwarded the request to the ATS provider and then obtained the records in December 2009 to pass on to the ATSB. This included copies of the 0630 METAR, 0800 SPECI and 0830 SPECI."

---

23 November 2009: Richard White MALIU correspondence to ATSB Director Aviation Safety Investigations, Ian Sangston notifying CASA will be conducting a regulatory investigation into the actions of the flightcrew. Note that there is no reference to 'parallel investigations' under either the 2004 or 2010 MOU (ref link – #122 &  #28).

---

23 November 2009: Richard White receives from Airservices Australia  the complete list of Norfolk Island Terminal Aerodrome Forecasts (TAFs) applicable to the occurrence flight timeframe. This included the Nadi non-relayed 0803 AMD TAF, which appears to be underlined (ref link – #122 & #85 )

---

25 November 2009: Greg Hood file note email (cc'd Jonathon Aleck, Terry Farquharson, John McCormick.). File note No.4 reference to flight recorder recovery would appear to show, at that point in time, that recovery was inevitable (ref link – #125 )

---

26 November 2009: CASA initiate a 'Special Audit' conducted between the 26/11/2009-
15/12/2009 at the Pel-Air Bases in Sydney, Adelaide and Nowra.

---

30 November 2009: Richard White email to John Barr (cc Roger Chambers) confirming Airservices passed on weather & received flight plan details from PIC Dominic James by phone in Apia. (ref link – #122 ) 

---

7 December 2009: Audit team meet with Pel-Air management to discuss a number of
deficiencies within the Westwind Operation. This was backed up by correspondence from
CASA on 9/12/2009.

---

7 December 2009: FAA/ICAO brief on 'next steps' after poor results/findings in the ICAO USOAP 2008 & FAA Nov 30- Dec 4 2009 Australian audits. (ref links – #53 & WikiLeaks cable PDF: https://auntypru.com/wp-content/uploads/2…ileaks.pdf

---

8 December 2009: E-mail from ATSB to CASA raising the possibility of contributing to a
joint fund sharing arrangement to recover the black box and CASA advised they didn't
have the necessary funds.

---

11 December: Advice from the UK Civil Aviation Authority to CASA providing an assessment of the fatigue scores for the accidental flight (ref link – #122 & PDF 881KB )  

---

16 December 2009: CASA accept the Pel-Air 'Management Action Plan' which consisted
of three phases.

---

16 December 2009: Dominic James was 'informally' interviewed by CASA  legal and investigative officers. (ref link – #112 )

---

18 December 2009: Pel-Air successfully completed Phase 1 items and were able to
recommence domestic operations. 

---

21 December 2009: CASA Special Audit of Pel-Air Fatigue Risk Management System ( ref links – #217 & PDF 5428KB )

---

23-24 December 2009: CASA overseeing FOI of Pel-Air Eric Demarco issues 14 RCA and
a number of AO. The RCAs needed to be acquitted by 28/01/2010.

---

24th December 2009: Dominic James notice of suspension of CPL, ATPL, CIR pursuant
to CAR 265(1)(a). Also given notice to undertake examinations under CAR 5.38.

---

24 December 2009: Pel-Air successfully completed Phase 2 items and were able to
recommence international operations.
References: 
1) The Iron Ring & the Hooded canary – https://www.auntypru.com/forum/showthread…38#pid8238
2) Pel-Air: A coverup: a litany of lies? – Version III – https://www.auntypru.com/forum/showthread…82#pid8182
3) https://www.auntypru.com/forum/thread-143…ml#pid8211
---
That, boys and girls would make better listening than another round of "Away in a Manger", Jingle Bells or bloody Rudolph the Red (brown) Nose etc…
Aye well. Time will pass, Christmas pudding and hangovers will dull the memory of Max Quartermain and the disgraceful building he hit. Perhaps not in the minds of his nearest and dearest, facing Christmas without the familiar figure at the table, a man denigrated, defamed, all but forgotten except by those who know a Hood job when they see one. Perhaps, once the Senate has bid a fond fare-thee-well to O'Sofullofit next year; Fawcett and his famous 'thin slices' of Swiss cheese will be heard, once again. We can only hope; for there stands a 'Statesman'; an Officer and a Gentleman – in the truest sense of the words. My Christmas wish? You bet it is. Hood would last about one round against Fawcett – I wouldn't even bother taking your bet. Will sense prevail? Good question that; a very good question indeed.
No matter. Must away; tempus fugit. BRB – BBQ tomorrow; then I'm crewing for Santa Christmas eve; the new gear on the sleigh is remarkable – not CASA approved of course – but who gives a monkeys – not me, not Santa and Rudolph has a new efflux control to test. So:- catch us if you can………..May your gods go with you and see you safe home.