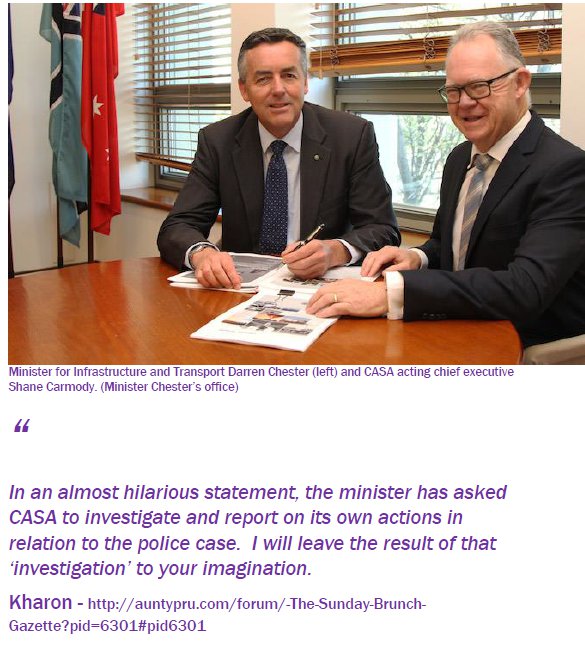 ---
A CASA spokesman said the authority had carefully assessed the safety issues and risks in determining the various classes of aviation medical certificates, taking into account things like other airspace users, aircraft passengers and people and property on the ground.
"CASA considers self medical certification to be appropriate for recreational pilots operating in small aircraft with one passenger, and outside controlled airspace under licences issued by Recreational Aviation Australia," the spokesman said. "CASA considers medical certification based on an assessment by a medical professional to be appropriate for pilots flying in all classes of airspace, including controlled airspace under a CASA issued licence."
He said since July, more than 200 general aviation pilots had applied for a basic Class 2 category of medical certification.
---
If you think double standards with CASA stop with medical certification then I've got a cheap house at Circular Quay I can sell you –  🙄
Anyway back to the smiling assassin Carmody:
---
Meanwhile, CASA will explore ways to make it cheaper and easier for aircraft flying under visual flight rules to voluntarily use automatic dependent surveillance-broadcast (ADS-B) technology.
The technology automatically broadcasts the precise location and altitude of the aircraft and is compulsory on instrument-flight rules aircraft.
CASA chief executive Shane Carmody said so far uptake in the visual flight rules community had been low despite there being strong support for voluntary adoption.
As a result, CASA was proposing to relax the equipment and installation standards for ADS-B fitment in visual flight rules aircraft.
---
Hmm…how can anyone trust a single syllable that comes out of Carmody's mouth after reading this Hansard from more than a decade ago?   😕
---
Senator O'BRIEN—So you do not accept that finding?
Mr Carmody—What finding?
Senator O'BRIEN—That there was not a conflict of interest.
Mr Carmody—I accept that the coroner—we raised the point that there was a conflict of interest. The coroner has come back and said it was not. As far as I am concerned that is the coroner's view, it was not.
Senator O'BRIEN—But you do not accept it?
Mr Carmody—It really does not matter whether I accept it or not. I am not continuing to push the line that there was a conflict of interest. We raised a point—
Senator O'BRIEN—Where would you push that line if you were continuing to push it?
Mr Carmody—I do not know. I have no idea. You are the one that is asking the questions
on that.
Senator O'BRIEN—I am. I am asking questions in relation to a coronial inquiry and raising several disturbing passages within the coroner's report which deal with the nature of CASA's submissions against another organisation which happens to appear before this committee and what the coroner described as a sustained attack on the integrity of the ATSB investigation report. Not only does the coroner find no reason to conclude there has been any deliberate skewing of the evidence, on page 9 he says:
… of necessity, not all information gathered in such an investigation can be included in the final report and reasonable minds may differ on what should be excluded without either being biased. Nor do I consider that the investigation model or framework led to any unconscious bias…
In prosecuting these allegations over ten pages of its submissions, CASA reminds one of the oft quoted observations made by Hamlet's mother, Queen Gertrude, when viewing the travelling players. P2 – Choc frog for former Senator O'Brien – an SBG quote perhaps? 
CASA's submission seeks to down-play the allegation of bias by concluding with what seems to me a disingenuous assurance that they are not alleging that it was intentional but rather the result of structural problems with the ATSB's new investigation system. That disclaimer is not consistent with the earlier attacks on the impartiality of the report which I have only briefly summarised here.

CASA had senior, expert legal representation who I'm sure would not have made such a sustained attack on the integrity of the ATSB investigation report without explicit instructions. In my view, these protestations are symptomatic of serious, ongoing animosity between the two organisations that needs redressing. I shall return to the issue in the recommendation section of these findings.
So, it can't be any clearer than that. That is very strong criticism of the CASA submission and a very clear view that the nature of the attack had to be the subject of explicit instructions, which was the subject of my question back in February. I am inviting you to give us some more information in relation to those comments. Were there indeed explicit instructions to attack the integrity of the ATSB's investigation report?

Mr Carmody—We were certainly not comfortable with their report. I do not recall giving
explicit instructions to attack the integrity of the report. But implicitly, if I do not agree with the subject in the report and we are disputing the report in the coronial, then I must be in some way instructing counsel to attack the report. We have said in our document that we believe the methodology in the report is flawed. That is an attack on the report. So to that extent, certainly. But I must say that I can quote things out of this coronial as well at liberty and I can quote things that support CASA's view. I do not see that it is helpful. P2 comment – Shades of…"just someone else's opinion"… comes to mind??   😥 
Senator O'BRIEN—Support CASA's view of the reason for the accident?
Mr Carmody—No support CASA's role and function organisationally, statements like
'CASA is not to blame for the accident'. The coroner—
Senator O'BRIEN—I have read the report. I know what is said there. I know there are
other passages that talk about certain other deficiencies.
Mr Carmody—Correctly, I mean, I think we could possibly agree to disagree on this
matter.
Senator O'BRIEN—You disagree with the coroner on this matter?
Mr Carmody—My point is that there are passages we could continue to read. The coroner for the first time in a coronial that I have read, has said, at least twice if not three times, that CASA is not to blame. He has obviously felt the need to emphasise that in his report. I do not know why he felt the need to do so. But that was very clear at the end of the report as well.
Senator O'BRIEN—I think he actually says in part why, given the families of the deceased and the view they had and the potential for them to be seeking a finger to be pointed at an organisation that could be held to account. I think that clearly was a reason that he was at pains to say: 'No, CASA did not cause the crash,' but he also says in other parts that CASA could have done more, and who knows what the outcome would have been if CASA had done more.
Mr Carmody—I do not know whether he says the 'who knows' bit.
Senator O'BRIEN—No, he does not say who knows. I am saying: who knows what the outcome would have been if CASA had done some of the things that the coroner found could have and perhaps should have been done. We can never say, and that is why the coroner said that because he did not know what the impact of those things would have been he could not make a finding as to CASA having a specific liability or culpability in relation to the accident.
Mr Carmody—If I may make just two brief points. The first one is that the two fundamental areas where we disagreed with the ATSB on the report were the characterisation of contributory safety factors to CASA and that was in relation to the methodology. The second one was the scenario, the end scenario, which occurred in the accident. Our view was, and remains, that if the pilot made a deliberate decision to depart from the published approach, in other words he broke the rules, then that was the principal cause of the accident and that any allegation that a contributory safety factor, which is the way it was characterised in the methodology for CASA, that could have changed that pilot's behaviour on the day is an incorrect characterisation. That is the point we made repeatedly in the coronial and that is the point we still make. But I make the final point which is that we have implemented all of the recommendations of the coroner. We have implemented the recommendations that ATSB made in the report, whether or not we agree with them, and we are moving forward.
---
When you consider this bit..
 "..Our view was, and remains, that if the pilot made a deliberate decision to depart from the published approach, in other words he broke the rules, then that was the principal cause of the accident and that any allegation that a contributory safety factor, which is the way it was characterised in the methodology for CASA, that could have changed that pilot's behaviour on the day is an incorrect characterisation…"
…it is very hard to reconcile that this Hansard was recorded more than 18 months before the 'inconvenient ditching' of VH-NGA at Norfolk Island –  🙄
Now fast forward to this segment of Supplementary Budget Estimates 27 October 2017:
Then consider how, since that time, the ATSB PelAir re-investigation report has effectively been whitewashed, with the collective memory of the PelAir cover-up in the Can'tberra aviation safety bureaucracy circles squaring it away and subsequently binning for all eternity –   🙄
Finally in regards to CC's comment…
"…But I make the final point which is that we have implemented all of the recommendations of the coroner. We have implemented the recommendations that ATSB made in the report, whether or not we agree with them, and we are moving forward…"
…you only need to revisit PAIN's research papers…
---
---
Yet here sits, over a decade later, that same bureaucrat who was responsible for oversighting, facilitating, defending and obfuscating one of the worst periods of Australian aviation safety administration since the writing and promulgation of the Civil Aviation Act  30 years ago –   😥
MTF? Yes much MTF! P2   😎