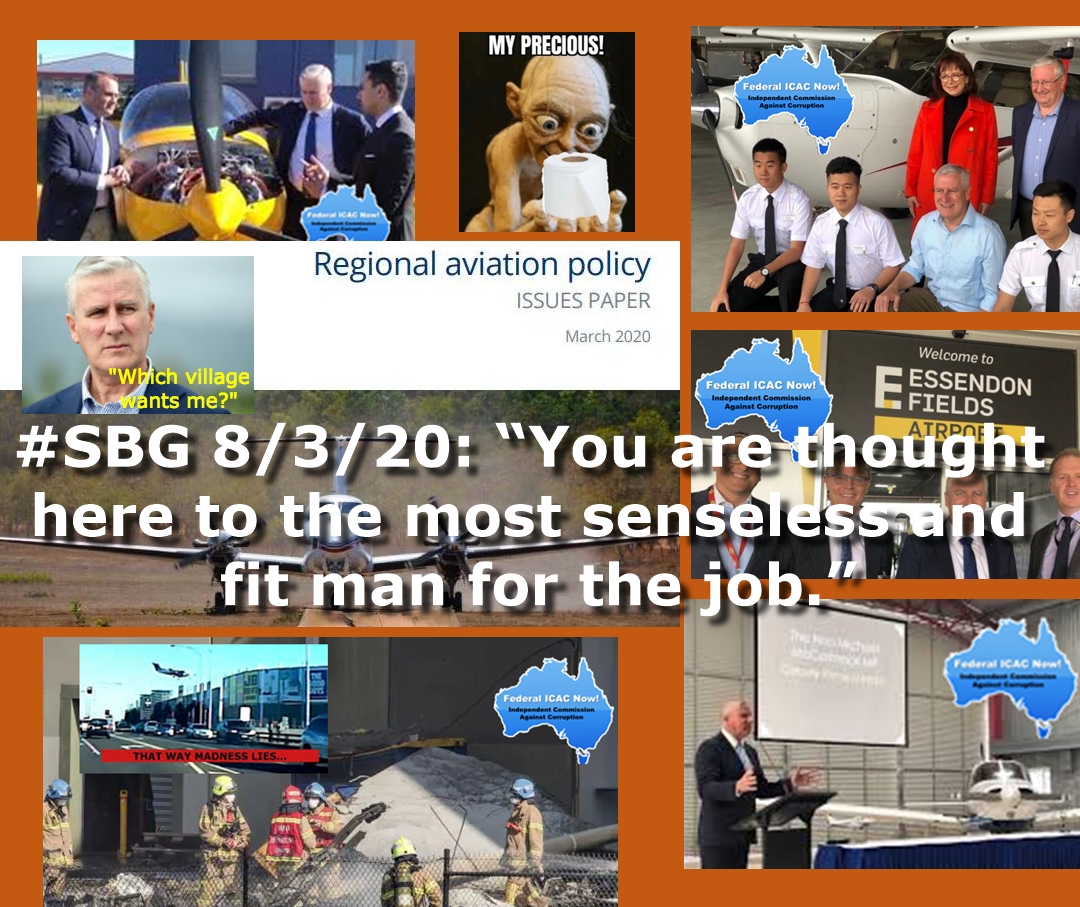 Pic references: Essendon Airport report delays slammed & https://auntypru.com/forum/showthread.ph…2#pid11142 & Mildura flying school allegedly funded with embezzled Chinese loans & https://auntypru.com/forum/showthread.ph…0#pid11140
---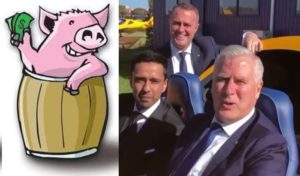 "You are thought here to the most senseless and fit man for the job." ― William Shakespeare, Much Ado About Nothing (AP Forum version)
I keep trying to find some of that human kindness stuff we're all supposed to have while watching our purblind minister merrily dance and skip along the slippery road to infamy. I do try to keep an open mind; but, the unfortunate circumstance alibi is wearing awful thin. Too many coincidences are stacking up, there is quite a list; all there in the media to be wondered at. Lots of happy snaps taken at Essendon, Moorabin, Mildura, deals struck out of school, advisors as directors of Mildura, an unwarranted ILS – to mention just a few. When Marie Antoinette mentioned cake, it kicked of a small brouhaha; his boss Morrison has mentioned curry – I expect a similar reaction should the witless wandering Wagga boy mention his 'advertorial' for aviation. I've no idea who drafted the wretched thing – but a national problem could be rapidly solved if all printed versions were pulped and sold in suffermarkets – at least someone would gain some comfort from it. May even prevent a brawl or two – a bonus for public safety Eh – what?
---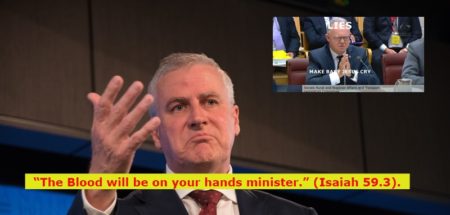 "Indeed the safest road to Hell is the gradual one–the gentle slope, soft underfoot, without sudden turnings, without milestones, without signposts,…Your affectionate uncle, Screwtape." ― C.S. Lewis, The Screwtape Letters
---
I hope many have read, considered and wondered (WTD) at the article published by the ABC featuring the debacle of the Mildura mega flight school – HERE -and joined the dots. I also hope that equally as many have read the condescending dribble in the ministers advertorial – HERE. The comparison between 'reality' and sugar coated faery tales, like SOAR and Mildura becomes imminently apparent. I will not bang on about the wholly preventable train tragedy or the ministers comments; others are much more capable of that – Glen Sterle for one. But non so eloquent as my old mate:-

Ref: https://www.advertiserlaketimes.com.au/s…k/?cs=6888
& https://auntypru.com/sbg-15-09-19-weltschmerz/
Enough said – now we must switch to a genuine safety matter, one which impinges on expensive  'security'. Fences of all the mundane, trivial things. To wit, those which surround our aerodromes. There has been an indecent amount of money spent on 'airport security'; some of it warranted, some of it so foolhardy as to beggar logic. Consider this; the 'average' regional airstrip is say 2000 meters; (give or take) Mildura 1947 meters. Add in the overrun areas and what have you, lets call it a 3000 meter long paddock. Any guesses as to how long the 'security' fence is; and, for a Choc Frog, the total length of fence required for the whole thing. The difference in length between that which is touted as 'secure' to that which is not secure is disproportionate – to say the very least. Anyone with intent, a drone or a rifle could toddle down the road a click, slip onto the aerodrome, tuck in behind a gable marker and be sure of creating havoc. Perimeter fence security is a joke outside the watched area, an impost and a cynical placebo. But worst of all, it does not guarantee safety – from a very real 'danger'.  
---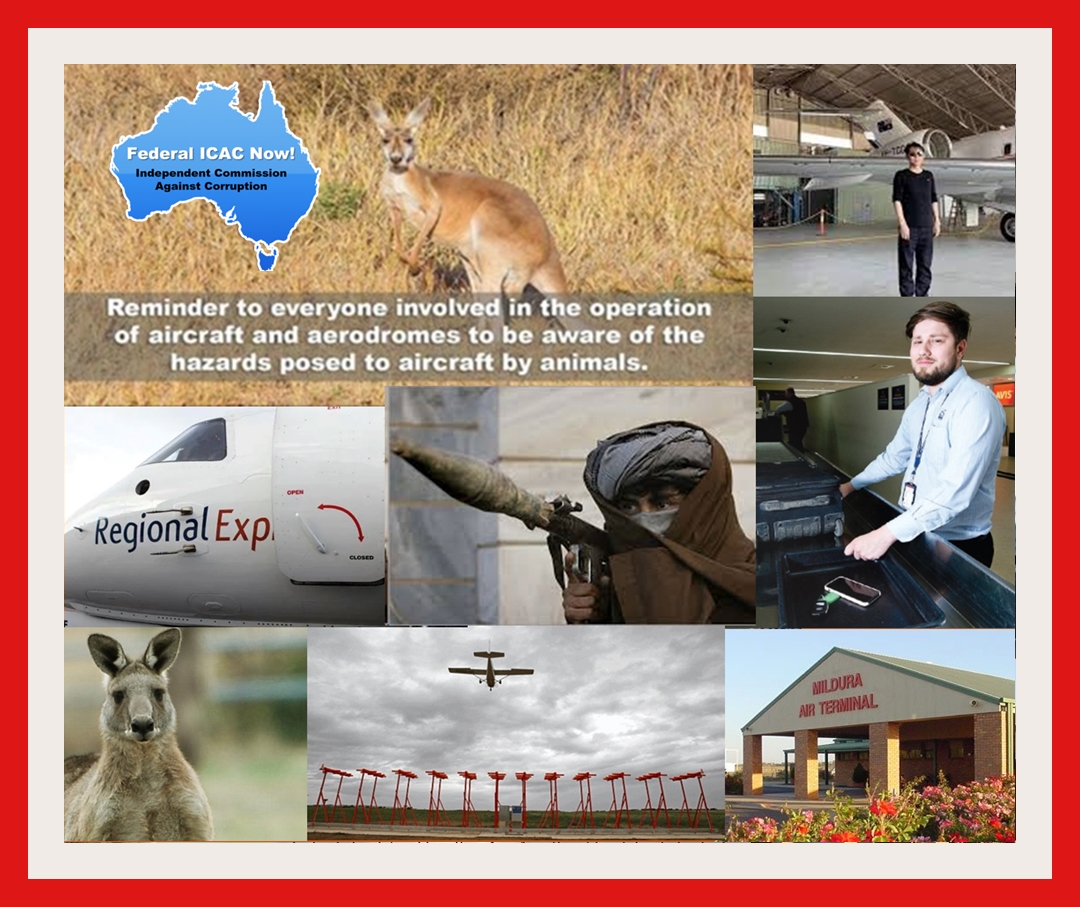 Ref: https://www.abc.net.au/news/rural/2014-1…or/5785578 & https://www.themercury.com.au/news/natio…0f7aa84085 & https://www.abc.net.au/news/2020-03-07/m…s/12032616
---
Score card – Terrorists 0 – Roo's 58.
ATSB – "It's not only airborne animals that pose a threat to aircraft. In the decade from 2008 to 2017, the Australian Transport Safety Bureau recorded 396 strikes by non-flying wildlife, including 58 by kangaroos".
Statistically – as the ATSB like to look at things – you've much more chance of winding up with a kangaroo on your meal tray than a SAM. Ask any pilot if they have had a close encounter with live or wild 'stock'. If they haven't then they'll know someone who has. The dust covered cattle which pushed over a stock fence to graze; buffalo, camels, donkeys, horses, pigs and ground lice (sheep) – all a potential, very real safety threat. Millions allocated to 50 meters of 'security – but for public safety for stock proof fencing? No, there bloody well ain't. Oh, by the way, I've never yet seen an ASIC card prevent either event; just can't see me scaring off a big male Roo or a determined evil doer with it. Aye;
---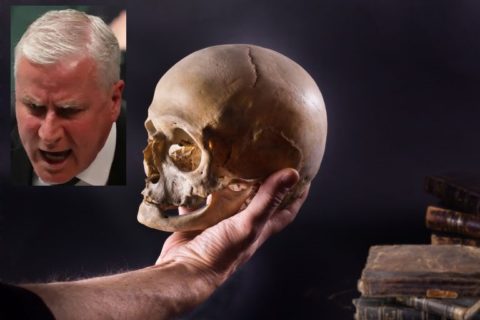 "The Play's the Thing, wherein I'll catch the conscience of the King."
---
Dy'a know, I've never been to a BRB or IOS sit down where there was not some light hearted jibes or Mickey taking of the incumbent government; or groaning, grumbling and either side of the fence taking a pot shot at t'uther. Grim silence on the political pantomime these days. It's actually quite a scary silence; the minister' is never mentioned, which is a first.
No matter; the housing for the 'box' which contains the guts of the clock is finished. Today, with some reverence the assembly was mounted on its inner frame and the clock started. The effect was 'magical'. The dogs ambled over, stretched out and watched the great pendulum swing in its orbit until they drifted off to dreamless sleep. Sat here, I can hear it measuring the rhythm of the world as she rotates past the planets. It really is quite wonderful. Now I have to make to outer skin, back and the doors – tomorrow will do for a start – Father Time is in no rush. Tried to slip out without waking the dogs – alas; off we go for our evening ramble.
Selah.