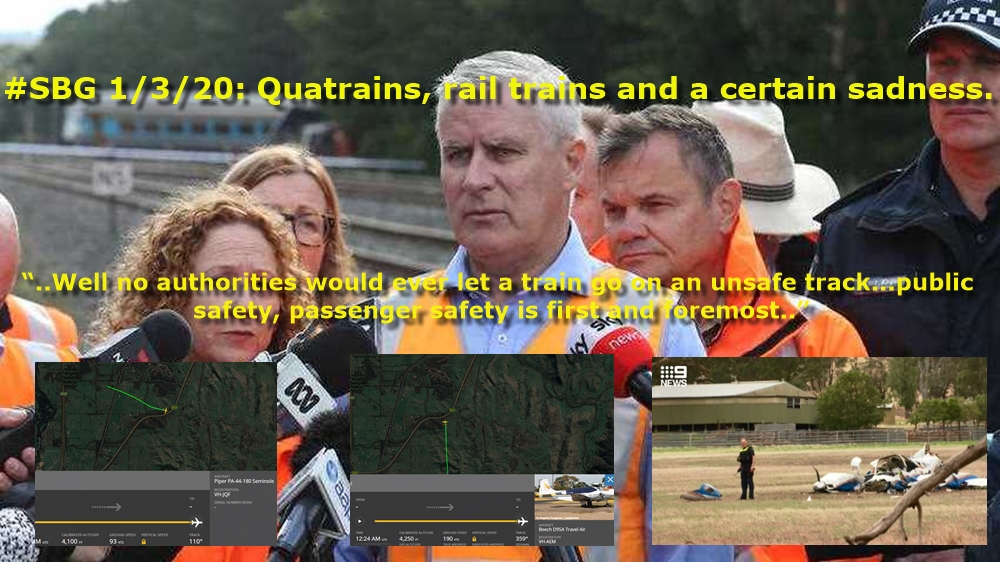 Ref: https://www.msn.com/en-au/video/sport/de…p-BB10dIiG & https://auntypru.com/forum/showthread.ph…3#pid11103 & https://www.sbs.com.au/news/michael-mcco…n-victoria
---
Quatrains, rail trains and a certain sadness. – AP Forum version.
The following was learned as a boy:-
"Be still, sad heart! and cease repining;
Behind the clouds is the sun still shining;
Thy fate is the common fate of all,
Into each life some rain must fall"
There is an undeniable logic there. It always made sense, seemed reasoned and reasonable; but lately, that has been sorely tested. I ain't what you may call the 'despairing' type. Not by a long shot – however. The mid-air crash and fatalities I can abide – it saddens me, it infuriates me and, it makes me wonder when some form of 'sense' is going to take a hand. But the train crash sickens me. Among my friends and acquaintance, there are two civil engineers with just a bit of experience in their world. Globe trotting problem solvers, independent, qualified and much in demand – nice blokes to boot. They say the 'problems' on that rail track were well known and documented, back when it was first built. Back then, the trains were lighter, slower and smaller. Even then, the 'ballast' was known to be limited – the 'problems' well documented by those who built it, even way back then. Countless governments have ignored the true, known problems; and, have allowed themselves to be persuaded that 'quick' cheap fixes will do the trick. More weight, more speed – increasing daily – travelling over the same, unresolved 'problem'. Sound familiar?
The story typifies the modern approach to responsibility. Yet two families grieve for their lost ones. The best the responsible minister can offer is ["we would not allow operation on an unsafe track"] (paraphrased). Yet they did, for donkey's years, despite many qualified warnings.
Then, we also had a mid-air collision which killed double the train wreck list; just a country mile from the train wreck. Did the minister and his entourage show up there in suitable costume? No? Then why not? The problems are the same – an unsafe operating environment – ignored and obfuscated by a series of transport ministers. "Your safety is our primary concern". BOLLOCKS it is. Ducking responsibility is; giving a city swimming pool the money (10 Mill) which would have fixed the track; and, provided another ATCO or two which may have saved four more lives. Six dead in totally preventable accident? WTD are the politicians thinking?
---
"Give sorrow words; the grief that does not speak knits up the o-er wrought heart and bids it break." ― William Shakespeare, Macbeth
---
Too damn true Will. We don't (theoretically) pay billions to support a public service. We pay that money so that when a known 'killer' is able to be restrained, that good sense and clever use of public money will minimise, if not prevent, such avoidable accidents as we have witnessed this week or so. How ducking hard would it be for a miniscule to say – "get this fixed" before an accident happens on my watch?
---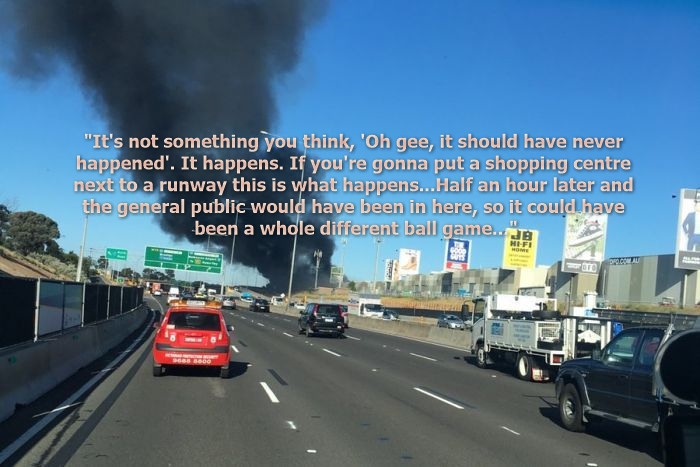 Ref: https://www.theland.com.au/story/5889768…el-flight/
---
Aye well. It confounds and saddens me. But what really darkens my spirit is that the 'good oil' was there for all to see and nothing, by way of prevention was done – except a cronic, notable, responsibly off-load act of bastardy. Pilots of aircraft, boats and trains ain't silly; nor are they unware of an increased risk factor. Forget the swimming pools, forget the gun clubs – fix the bloody mess repeated governments have left behind. WTH are these supposedly responsible people thinking about? 
---
"It is foolish to tear one's hair in grief, as though sorrow would be made less by baldness." ― Marcus Tullius Cicero
---
Wise words – but when so few glaring obscenities are addressed, by those elected to primarily ensure Australia has 'the best' and the power to make it happen – and then do SFA but talk and focus on re-election; well, baldness is fast becoming a preferred option. The siren's song of life in a bubble, praying that nothing goes wrong lures the self serving and the inept to destruction on the rocks of their own making.
---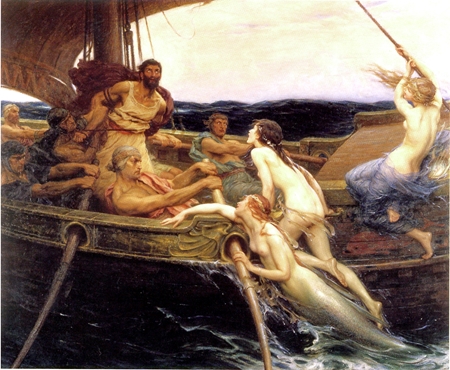 The siren song is a promise to Odysseus of mantic truths; with a false promise that he will live to tell them, they sing,. Once he hears to his heart's content, sails on, a wiser man.
---
Solace comes in many forms; birds calling at sunset; flying foxes trudging their way to a feed into a twenty knot headwind, the dogs on a fox trail and loosing it (their faces priceless). The calm, quiet space of the stable and workshop – all balm. I've even managed to get some tricky joinery done – with only mistakes I can see. Not perfect, you understand, but then, what is in this world?– But as good as would be expected at the time – not an excuse you understand – but the very, very best I could do. That, IMO is all anyone can do – unless of course ………etc.
"Away to me dogs". We will go a roving – So late into the night – The heart still beats as loving – and the moon be still as bright. (Byron ish?)…….
Selah.
---
P2 addition:
The witless, wonder from Wagga does it again –  

 
 
Keeping with this week's SBG theme (see above), the following was a short segment extracted from last night's RRAT committee questioning of the ARTC in relation to the tragic XPT train derailment at Wallan:
(Refer from 04:30 minutes)
This is a link for the press conference transcript to which Sterlo refers: https://www.michaelmccormack.com.au/medi…ruary-2020
Quote:
JOURNALIST: 

Are you happy with the efforts to get the line back up and running after the Wallan accident?

MICHAEL MCCORMACK: 

Well, yes, I am and of course, what we always needed to do, what the ARTC's first and foremost mission was, was to make sure the line was safe.  No authorities would ever send a train down an unsafe track and I know that the National Rail Safety Regulator, I know that the Australian Transport Safety Bureau are investigating the accident that sadly took the lives of two train operators last week and we mourn with them, our condolences go out to their grieving families.  Of course, a 54-year-old driver, John Kennedy, and the pilot, 49-year-old from Castlemaine, Sam Meintanis, we mourn with them, we mourn their loss and we will make sure that the proper answers are found by state authorities, Victoria, of course, where the accident occurred, near Wallan, New South Wales, of course, because it was an XPT New South Wales train and the ATSB, the National Rail Safety Regulator and of course, there's a coronial inquest going. P2 comment – Code for the ATSB and the regulator will run topcover O&O exercises until the next election but the 'independent from Federal interference' Coroner's inquest could be the thorn in the side of Australian taxpayer funded O&O process…  

So what we need to do, I don't want to pre-empt anything that may or may not have been done or happened, what we need to do is let the proper investigators take the right amount of time to fully investigate this accident and come up with the answers as to why it occurred. 

JOURNALIST: 

Are you satisfied the line is safe?

MICHAEL MCCORMACK: 

Well, the line won't reopen until it's safe. 
Also of interest in that transcript was another reference to a coroner's inquest in relation to the release of ATSB C130 large air tanker accident prelim report:
JOURNALIST:

Is it satisfactory that the C1300's voice recorder was not working?

MICHAEL MCCORMACK: 

We mourn for the loss of those three American firefighters who came to our country to fight the fires in and around Cooma, in New South Wales and indeed, they did a very fine job.  Anything to do with that particular crash, of course, is being investigated by the proper authorities and I know that not only the Australian National ATSB, the Australian Transport Safety Bureau are investigating, but also, as you would expect, American authorities are very interested in what went wrong and to make sure that we avoid these sorts of things in the future. 

A very, very sad accident, a tragic loss of life.  Three men in their prime helping out, reaching across, reaching across the ocean to help their friends in need here in Australia.  We mourn with their families.  I've spoken to their families, I've attended two memorial services for them and I know how much of grieving is going on overseas, over in America for these losses.  And, of course, we want the answers as to what went wrong that day. 

It's very dangerous work that they do.  If anybody has ever seen one of those fire bombers in action, it's very dangerous work.  They fly very low, they're very brave and I know one of those pilots, indeed, he was very experienced in Afghanistan, had flown dozens of sorties across war-torn Afghanistan and the Middle East and to think he's come here to Australia and sadly lost his life in that accident, in that crash, is just heart breaking.

JOURNALIST: 

Will you seek change in the rules to make sure that all aircraft will have voice recorders working?

MICHAEL MCCORMACK: 

Again, I say this will be part of the investigations, part of the recommendations and I know the full coronial inquest will look at all matters, what went wrong and what needs to be fixed for the future.  Thanks so much.
Talking about recommendations and inquiries, on the same day that Mick Mack made some of those bizarre (seemingly unscripted) foot in mouth comments, his department and AMSA have taken note of the WA Coroners findings and would appear to have preempted the findings/recommendations of the RRAT committee's ongoing inquiry into the performance of AMSA:
NEW PASSENGER SAFETY RULES FOR AUSTRALIAN COMMERCIAL VESSELS

The Australian Government has announced new measures to improve the safety of passengers on Australian commercial vessels.

Deputy Prime Minister and Minister for Infrastructure, Transport and Regional Development Michael McCormack said the changes strengthened requirements to ensure passengers were accounted for throughout their journey.

"These changes take a holistic approach to passenger safety and follow extensive industry and public consultation to deal with the complexities and careful consideration of the diverse needs of our commercial vessel sector," Mr McCormack said.

"These changes include mandating the recording of passenger counts at the end and beginning of every voyage. Higher-risk vessels such as cruise boats and tourism vessels will be required to count passengers whenever they get on and off the vessel – not just at the start and end of a voyage.

"We have clearly defined the responsibilities for operators to have effective procedures to monitor passengers and to have evidence of their safety and emergency procedures for a missing passenger, recorded in their Safety Management System. This will ensure the regulator, the Australian Maritime Safety Authority (AMSA), can verify their compliance with these new rules."

Based on industry feedback, the changes will enable operators to use the best safety systems and technology for their individual operations – whether that is on/off counting, electronic wristbands, CCTV monitoring or other tools – to ensure their crew can respond to passenger safety incidents as quickly as possible.

The next step will be educative, helping owners and operators in the industry to comply with the rules that take effect on 31 May 2020.
MTF…P2  

Ps Hmm…I wonder how much influence a certain head of the AMSA Legal Services Division had in that proactive measure to mitigate the safety issue identified? Perhaps now would be a good time to put fwd CM's CV to take over the role of CASA's LSD?