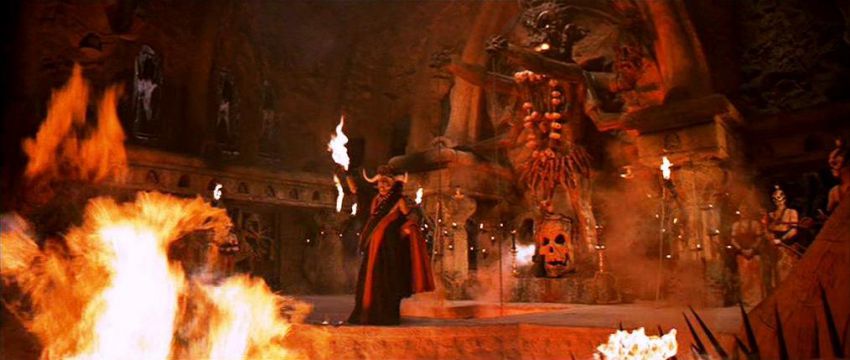 A cabaret in the temple of doom. – AuntyPru forum version.
We managed to get 'back stage' at the rehearsals for what is touted to be one of the most expensive shows ever staged. It easily rivals, in cost, Barmy-baby Joyce's top pick of the Pirates of the Caribbean ($378.5 million), although the Hobbit trilogy ran up to $623 million (Wiki). "A mere bagatelle compared to our show" said the PR lady as she gave us our back stage visitors passes – "we have already spent over $100 million in pre production and we're nowhere near finished yet".
---

---
She rushed on, obviously disturbed by our stunned silence – "it may seem like a lot of money but really, it's just a drop in the bucket when you compare it to some of the really big Canberra shows – which have flopped, costing the tax paying public billions – . "One –Sky is a great example" she gushed, "the CASR rewrite another; it's just that there's an endless supply of money for experimental theatre, so of course we take full advantage of it". "Don't anyone object?" growls P7. "Oh –tra lala" chirps our guide; "of course they do, but we have a system and friends within that system to make sure the money hopper is always chock full and the objections are 'managed' properly".
For the sake of peace and to ensure we got 'the tour' I put my arm across P7's shoulders and P2 looked to have a headlock on GD – "steady the Buffs" I whispered and we followed meekly along behind our guide. We were to meet some of the star turns and then watch the chorus line rehearsing.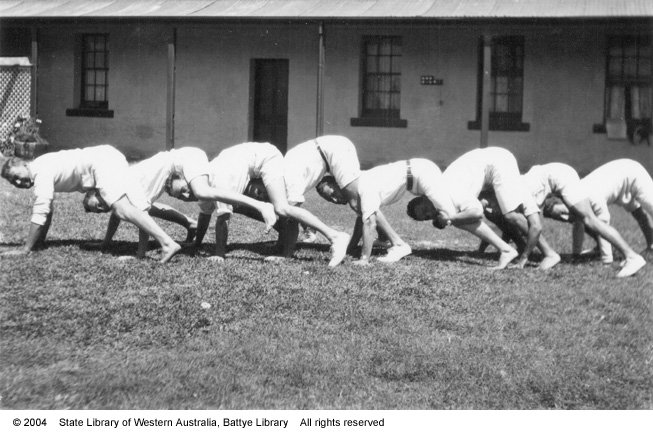 The first tent we arrived at was a fantasy from the Arabian nights, herein resided the Mystic McComic, attended by his hand picked assistants. We were surprised to realise that his 'assistants' were all skilled ventriloquists, all McComic had to do was sit on a big cushion – looking all mystic and aesthetic like and repeat the words whispered into his shell like ears. We all thought the 'mystic' look was simply for the benefit of the audience – but even out of costume he manages to look vacant – like a constipated pilgrim praying to break wind; that or there's a couple of pages stuck together.
---
Of Mandarins & Minions.
AuntyPru.com
---
Whatever, we were pleased to be out of there – the strange odour permeating from behind the boudoir curtains was quite nauseating. "Wow" exclaimed GD (who knows about such things) "that's some good shit they got in there" as we floated away on a cloud of blissful tranquillity.
Have you ever seen the dance of the Seven veils practiced by a bloke – in drag – wearing military boots? We have; and, its quite alluring – even in rehearsal. The star in this little entertainment is Fan Dance Fawcfit – master of the great tease.
---
Sen. D. Fawcett – Legend. – WOFTAM award nominee and Hall of Shame recipient
---
It is an acknowledged art form: the skill lays in always having the audience believe that some titillating part of the anatomy will be revealed and you will actually get to see beneath the veil – alas; 'tis but a show for the punters. Yet they still turn up to watch, hoping that one day there will be something worth the entrance fee to see.
Of course the orchestra was there' we were treated to a rendition of 'Believe it if you like' rearranged by the Iron Ring consortium, conducted by the maestro himself. The new arrangement has a fascinating, repetitive, primitive rhythm akin to the dark voodoo chants and incantations, which have the audience held in thrall – until the music stops and sanity returns.
---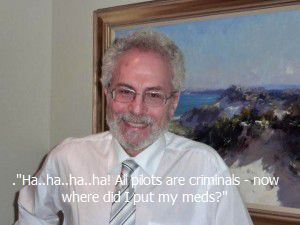 Strictly liable, fairly enforced | Flight Safety Australia
Flight Safety Australia
In the orchestra pit we have Ka-mate on first fiddle; supported by a full team of fiddlers and, strange as it may seem, a bagpipe – for an irritating counterpoint. Timpani is provided by the 'Electric-Blue' percussion group, who seem to enjoy making as much racket as possible without ever maintaining an even flow.
---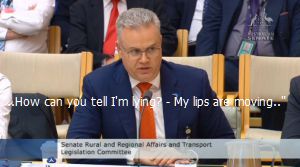 Airservices continues to mislead at Senate Estimates — Just Plane …
Just Plane Wrong
---
In the Banjo section we have the 'windswept and interesting' quartet, who seem to enjoy prancing about the countryside in leather chaps and Hi-viz vests; contributing very little to the sym-phony. No matter – it makes them easy to spot and avoid in the pub.
---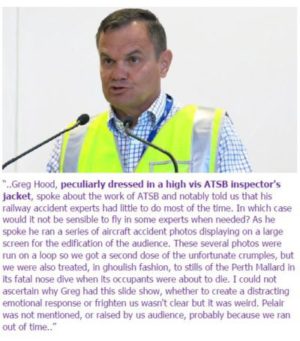 The search for investigative probity.
AuntyPru.com
---
Aye, it was an interesting day, full of smoke, mirrors and traditional stage magic. No doubt the audience will appreciate it, if they ever come out of rehearsal and into the public purview. This show has been in pre production for thirty years; the costs astronomical.
Out PR lady assured us, when we asked, that there was strict oversight of spending and close management of value for money spent. P2 had just about had enough by this time – "By whom?" he barks.
"Oh" says the winsome, perfumed waif – "why, we have our very own committee in the Senate dontcha know; lovely fellahs – all lovers of theatre and music; true patrons of the arts of deception and mysticism".
"Yeah – well what about the hundreds of recommendations made to close this circus down and the thousands of complaints about the cost of this charade" growls P2.
---
CASA lacks Expertise to adopt ICAO Standards: AMROBA – Australian …
Australian Flying
---
"Silly boy" says our guide in a patronizing, pitying tone; "those are only the mere opinions of the plebs; the great unwashed, those of the unshriven mongrel breed who have not made the pilgrimage to Canberra and taken the waters"……….
---
Link for Dr Aleck reply to RRAT Committee and the McComic IOS comment: PDF 221KB
---
As we had now a surfeit of real life theatre P7 suggested a drink in the nearest pub; GD seconded the motion – we departed at speed, leaving the venal, the vacuous and the fatuous far behind. The first Ale arrived at our silent table and was dealt with speedily, in stony silence. GD got the next round in – to more silence. Eventually, the question was asked "do you believe that crap?" In the stern silence that followed the answer was found; no one sane would admit to having witnessed and believed the spectacle was true. But it was children, it was; and, if you keep it secret, I can tell you it all still exists, thriving and growing bigger every day.
Some will have a little trouble believing today's faery tale; but empirical evidence may be found in the post above – If you've time and interest the Senate thread provides some insight and once we've cleared the decks a bit and the state of aviation is understood – we shall examine the Pel-Air mess in detail, with clarity. It is a cautionary tale – for government; ask Albo if he was deceived – he'll tell ya a tale of a hook, a line and a sinker.
Selah.
P2 thoughts after that vomitus tour…