Miniscule McDo'Naught on the record -

Via the Nats:
Quote:

MODERNISED RULES FOR CIVIL AVIATION SAFETY



The Australian Government has today announced new Civil Aviation Safety Regulations (CASR) which will streamline and modernise the rules which apply to all flight operations in Australia.





Deputy Prime Minister and Minister for Infrastructure, Transport and Regional Development Michael McCormack said the rule changes will provide clarity to pilots and fight operators and are scalable to the complexity of aviation activity in Australia.





Mr McCormack said the six new regulations are collectively known as the Flight Operations Suite and represent a significant milestone in the Civil Aviation Safety Authority's (CASA) ongoing regulatory reform agenda.





He said the new rules also reflect the safety commitment shared between the Federal Liberal and Nationals' Government and the many thousands of companies and individuals within the Australian aviation industry.





"These new rules have been developed in close consultation with our

aviation industry, which is recognised as one of the safest in the world but we can always do better and we must," Mr McCormack said.





"Where appropriate, the regulations are outcomes-based rather than prescriptive, allowing pilots, owners and operators to make appropriate decisions for their operations to achieve required safety outcomes.





"The rule changes will come into effect in March 2021; allowing time for the development of guidance material and manuals.





"I expect the Civil Aviation Safety Authority to continue collaborating with industry to ensure a smooth transition."





Mr McCormack said the changes reflect the expectations held by successive Governments for cost impacts and proportionality to be a consideration in the administration of Australian safety regulation.





"While safety will always remain the primary consideration, a strong and sustainable industry naturally requires other factors to be considered," he said.





"While these expectations from Government have always been clear, they have not featured in our primary legislation.





"The general aviation sector in particular has made it clear that these considerations are essential for them to prosper in an otherwise difficult business environment.



"I recognise there are other important elements to ensure our regulatory system remains both strong and appropriate, so at the earliest opportunity next year, and with bipartisan support, I will seek to make some small but significant amendments to the Civil Aviation Act 1988.

"I am pleased we can advise of changes and look forward to ongoing bipartisan support in this area.

"Together with the new rules, I am confident that these small changes will help Australia maintain its enviable safety record and a vibrant aviation industry which is particularly important to regional communities and economies."



CASA CEO and Director of Aviation Safety Shane Carmody said achieving the milestone was no small task and it required a lot of hard work and commitment from many people in CASA and the aviation community.





"I thank everyone who contributed to these rule sets. It is testament to our new consultative processes that we were able to ensure feedback from subject matter experts and people across aviation was received, carefully considered and incorporated as required in a timely and professional manner," he said.





Aviation Safety Advisory Panel Chairperson Patrick Murray said CASA has listened to the aviation community's views during development of the new regulations which helped generate better and more effective rules.





"I am pleased CASA is committed to continuing to work with the aviation community through a range of consultation mechanisms to complete the development of the rest of the Civil Aviation Safety Regulations," he said.
I also see that today disgraced former miniscule overseeing aviation Andrew Broad has gone a step further and announced he will not contest the next election. 
---
Nationals leader Michael McCormack sees no reason to resign after sugar babe saga
[img=0x0]https://i1.wp.com/pixel.tcog.cp1.news.com.au/track/news/content/v2/c8d8a0c40aea993469a860c03153ef26?t_product=video&t_template=../video/player[/img]
Andrew Broad with his wife Rachel and (inset) 'sugar babe' Amy.
RICHARD FERGUSON


REPORTER


@RichAFerguson


[img=0x0]https://i1.wp.com/pixel.tcog.cp1.news.com.au/track/component/author/f6da65934b44fc4cc84644fa25814434/?esi=true&t_product=the-australian&t_template=s3/austemp-article_common/broadsheet/components/article-author/widget&td_bio=false&td_location=none[/img]

ROSIE LEWIS


REPORTER


@rosieslewis


[img=0x0]https://i1.wp.com/pixel.tcog.cp1.news.com.au/track/component/author/4a04a5d3a5dcec23c43a4c865bb50321/?esi=true&t_product=the-australian&t_template=s3/austemp-article_common/broadsheet/components/article-author/widget&td_bio=false&td_location=none[/img]


1:28PM DECEMBER 18, 2018




Deputy Prime Minister Michael McCormack says there was "no reason" for him to inform Scott Morrison about Andrew Broad's sexual misconduct allegations because it was a "personal matter" as his leadership of the Nationals is questioned over the "sugar babe" saga.

"He reported the matter to the AFP and I felt, well, that's a matter for the AFP," Mr McCormack told reporters in NSW.

"If they find anything untoward — which obviously they haven't — then that is entirely a matter for the AFP and if something comes of that, well, something comes of it. Otherwise I thought it was a matter for him and his family to sort out.
"I didn't think it was a matter that I even knew about, let alone needed to take up with the Prime Minister.

"The fact is it was a personal trip. He made a very bad decision, but a very bad decision I wasn't aware of all the facts of."

Mr Broad faced a barrage of sexual misconduct allegations this morning with reports at least three other women have complained to the National Party about his behaviour.

The new claims come a day after a failed tryst with a Hong Kong "sugar babe" forced Mr Broad to resign as an assistant minister, and Mr McCormack has been under pressure to say when he knew of the allegations.

The Deputy Prime Minister also said he saw no reason to resign as his party descended into chaos over the revelations Mr Broad was using a sugar daddy website to meet younger women overseas.

"I don't know anybody who thinks I should resign. I've made the right course of action. Indeed, Andrew Broad has taken the right course of action. I'm doing a very difficult job," he said.

"These are not the sorts of things a leader wants to be focused on and wants to be facing down cameras talking about.''

Shortly before 

The Australian

 

exclusively revealed that Mr Broad will not contest the next election

, Mr McCormack had said Mr Broad should "consider his future".

"I think he needs to work out whether that (running again for parliament) is entirely his future," the Deputy Prime Minister said. "I think he's got more concerns at the moment sorting out his own personal issues. I would like to think that somebody who was going to represent the National Party is entirely focused on the people we serve."

Sky News reports Nationals MPs were told not to discuss the allegations against Mr Broad on the messaging app WhatsApp yesterday.

"If anybody is asked about the personal details of one (of) our members can we ALL say no comment, today is about MYEFO and the leader will deal with this tomorrow," Nationals whip Damian Drum texted.

Mr McCormack then sent out his public statement to his MPs and asked them to "refrain" from commenting.

"I have just sent you all a statement regarding Andrew Broad's resignation," he texted.

"I would ask that you refrain, where possible, from commentary concerning this matter but that your refer to this statement if pressed."
More complaints about Nats MP



The Herald Sun

 reports today that three separate women have contacted National Party officials during the past 12 months about Mr Broad's alleged inappropriate behaviour online and in hotels and bars.

Nationals officials reportedly said those women had threatened to expose him to the media and that they feared revelations he had gone on a "sugar babes" website was the "tip of the iceberg."

Those officials also told 

The Herald Sun

 that multiple women over the past three years had contacted the Nationals claiming "dalliances" with Mr Broad.

"I have resigned. Please respect my family," Mr Broad told 

The Herald Sun

.

In a further twist to the damaging saga, the Australian Federal Police last night confirmed it received a referral from Mr Broad about the Hong Kong matter on November 8 — about a month before Mr McCormack said he was first told of the allegations — over claims the woman "may have engaged in criminal activity".
[size=undefined]


[/size]
Mr McCormack did not alert Scott Morrison, who found out about the allegations against Mr Broad yesterday morning and "acted immediately" to sack him from the ministry.

The disgraced MP, who is considered one of Mr McCormack's key supporters, was forced to resign following the publication of allegations he met up with the younger woman in Hong Kong via a "sugar daddy" dating site.

Government sources said Mr Broad's travel on September 2-7, reportedly for the Asia Fruit Logistica conference, was personal and not funded by taxpayers.



The Australian 

understands Mr Broad, aged 43 and married, conducted electorate-related business in Hong Kong and charged taxpayers for return flights between Mildura and Melbourne, before flying to Hong Kong and back at his own expense.



The Australian

 has confirmed Mr Broad, who was sworn in as assistant minister to the Deputy Prime Minister on August 28, will repay taxpayer money used to pay for the domestic flights between Mildura and Melbourne which connected him to Hong Kong.
According to a story published in 

New Idea 

magazine yesterday, "Amy" — who goes by the online alias "Sweet Sophia Rose" — ­allegedly met Mr Broad for dinner at the ritzy Hong Kong restaurant Aqua. The member for Mallee also allegedly sent a series of text mess­ages to her in the lead-up to the date, including: "I'm an Aussie lad, I know how to ride a horse, fly a plane and f..k my woman. My intentions are completely dishonourable."

Another text message allegedly said: "I've booked a flashy room to seduce you back to."

Amy alleged that during the dinner Mr Broad, who holds his Victorian seat on a safe margin of 19.8 per cent, was "so forward and cocky" and he allegedly kept "grabbing my hand and putting it on his leg, so I excused myself and went to the bathroom and when I came back I told him I was leaving".
[size=undefined]

Nationals MP Andrew Broad with his wife Rachel.

[/size]
Mr McCormack and Victorian Nationals have stood by Mr Broad, who has been preselected to contest the next election and is said to be keen to remain in parliament.

Nationals sources have suggested Amy may have tried to bribe him but an AFP spokesman said no offences under Australian law had been identified.
Joyce reacts

Mr Broad was the first of his colleagues to call for former Nationals leader Barnaby Joyce to quit over his affair with staffer and now-partner Vikki Campion back in February.

"Quote from the late Billy Graham "when wealth is lost, nothing is lost; when health is lost, something is lost; when character is lost, all is lost"... telling words for the Leadership of the National Party," Mr Broad tweeted at the height of the Joyce scandal.

Mr Joyce said this morning he had "some disappointment" considering those past statements, but that he wished Mr Broad well in his future parliamentary career.

"There is some disappointment that I have in some of the statements that might have been made in the past," he told the Seven Network. "I wish him all the very best."

Labor senator Kristina Kene­ally questioned how it was possible no action was taken against Mr Broad until the allegations were made public — after Mr McCormack confirmed he knew about them for a couple of weeks.

"The standards Mr McCormack says he upholds and demands of his members of parliament don't seem to have been lived up to by Mr Broad," Senator Keneally said.

Nationals MPs would not comment publicly but urged Mr Broad to apologise to party members and his constituents.

As the scandal overshadowed the government's mid-year budget update and announcement of an increased surplus in 2019-20, 
Treasurer Josh Frydenberg said this morning that Mr Morrison "acted straight away" once he heard about the allegations against Mr Broad, and that Mr McCormack was trying to "work through" the issue.

"The minute the Prime Minister heard, he acted straight away," the Treasurer told the Nine Network. "Michael McCormack was trying to work through this issue, but what is very clear is that this conduct was unacceptable. "He (Mr Broad) has resigned. That was the right thing to do."
[/url]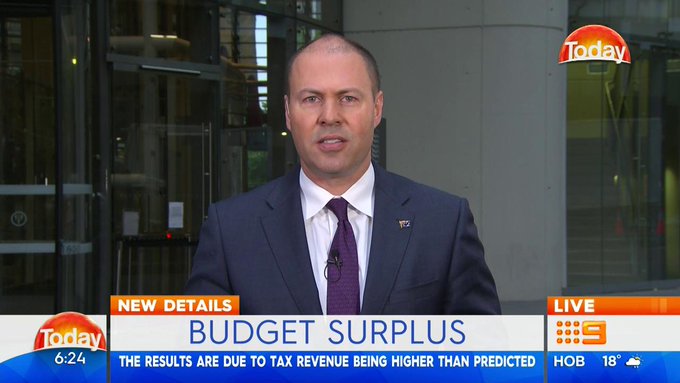 Quote:


The Today Show



✔

@TheTodayShow


"This conduct was unacceptable."

@JoshFrydenberg

on the Andrew Broad -

@broad4mallee

- scandal.

#9Today


[url=https://twitter.com/intent/like?tweet_id=1074751711397302273]


6:42 AM - Dec 18, 2018
Mr McCormack yesterday acknowledged "this is an unnecessary distraction against the message we're selling".

"I have accepted his resignation; it was the right thing to do," he said.

Mr McCormack refused to clarify when he first found out about the scandal but thought it was approximately two weeks ago. "At the time, Mr Broad advised me that he had contacted someone overseas for a date and went out to dinner with the individual," he said. 
"He said nothing more than that had happened and that he was on a personal trip to Hong Kong. Further, he told me the person had then made contact with him again after the dinner in circumstances I felt he should refer to the AFP, if he had not already done so."

A staffer of Nationals senator Barry O'Sullivan has also been stood aside after sending abusive texts to 

Sunday Telegraph 

political editor Annika Smethurst.

Mr Broad's spokeswoman said he did not have any comment other than what was published in the 

New Idea 

article. The Nationals MP said: "I have been advised that the person making the alle­gation may have engaged in criminal activity. This matter has been reported to the Australian Federal Police and I will not be making any further comment."



The Australian

 is not suggesting the allegations are true, only that they have been made.
---
Well here is a thought - 

Ref: 
https://auntypru.com/setting-the-odds-and-playing-em/
Quote:

Quote:
"..if you look at a safety system holistically—a bit like James Reason and his accident causation model—what we are finding is that each of those pieces of Swiss cheese has been thinned to the absolute minimum that is permissible by law, which maximises the chance of an accident by minimising the options for a pilot who has a malfunction in an aircraft. I guess the request here is that we sit back and look at this holistically, as opposed to saying, 'Yes, they have met this requirement or that requirement,' and look at the aggregation of the loss of margin and, therefore, options for an aircrew member who has an issue with an aircraft. Public safety zones are but one element of that whole system" ― Senator David Fawcett, 23 May 2017.
(ref: 

https://parlinfo.aph.gov.au/parlInfo/dow…fb/0000%22

 )
In the interests of a united industry and the fact that there is apparently on the record bi-partisan support for changing the Act, perhaps now would be a good time to put in a pitch for one Senator David Fawcett to take up the cabinet role of overseeing aviation safety (for at least the next 5 months) while streamlining the legislative processes in changing the Act - just saying...

MTF...P2