Another for the Dr A CV legacy record - 

4+ year historical record of the Josh Hoch case:
Update: Via Brissie Times
And posthumously from one of the last of the true tendentious bloggers Ben Sandilands (may he RIP - 
 ): 
(01-26-2017, 05:47 PM)

Peetwo Wrote: Shades of tendentious blogging - revisited. 

Ben S followed up his report yesterday with this excellent and historically relevant piece today :



Quote:

Rogue pilot revelations show CASA tolerated his activities for years


Ben Sandilands Jan 26, 2017

Details of the rogue pilot police operation reflect very poorly on air safety regulator CASA

CASA has given information to the Townsville Bulletin about the rogue bush pilot Josh Hoch which confirms its utter contempt for the safety of the flying public and its inability to effectively regulate air safety in Australia.

A Queensland police investigation has this week led to Hoch being charged on 342 counts concerning 14 alleged offences involving among other matters the claimed sabotaging of aircraft flown by rival general aviation or small regional operations out of Mt Isa airport.

Two of the aircraft Hoch allegedly tampered with by putting plastic beads and other contaminants into their fuel talks had crash landed without loss of life.

Three aircraft are alleged to have been interfered with, risking potential loss of life, on four separate occasions by Hoch in 2016 alone.

Hoch has also been reportedly charged over several alleged cases of insurance fraud involving aircraft.

However in the Townsville Bulletin story, a CASA spokesperson confirms that the safety regulator knew about claims about Hoch's activities since 2013, and had worked closely with the police investigation since last October.

What happened in relation to Hoch's activities between 2013, or possibly ever further back, and a very large police operation toward the end of last year, has yet to be laid out for public scrutiny.

But Plane Talking has a copy of a CASA document showing that Hoch and his company didn't receive a charter approval and air operator certificate until December 8 last year, by which time the safety regulator on its own admission had participated in the police inquiries for two months.

If as this implies Hoch's operations were unlicensed and unapproved by CASA for all or part of the time they were taking place up until December 8 last year the safety regulator is in obvious and quite possibly criminally negligent breaches of a number of acts.

How CASA could claim to have conducted a satisfactory audit of Hoch's operations given the brief published by Queensland police and extensively reported in the Townsville Bulletin is a vitally important question.

CASA is on its record an organisation totally indifferent to the blood on its hands from recent blatant failures to carry out it duties. It doesn't recognise its guilt or its incompetence, and it has made fools of the aviation ministers responsible for its activities for at least as far back as the Seaview disaster of 1994.

The safety regulator also knew of the lethal potential of the operation and principal operative of Transair long before it flew a small turboprop into a hillside when attempting to land at Lockhart River in 2005, killing all 15 people on board.

CASA failed to act on the unfavourable results of an audit of the operations of the Pel-Air fleet of Westwind corporate jets before one of them ditched in stormy seas off Norfolk Island in 2009. It subsequently attempted to suppress that audit with the co-operation of the ATSB, the accident investigator, but was found out by a highly critical all party Senate committee hearing into what remains an unfinished saga. The ATSB was forced to withdraw its first accident report into the Pel-Air crash, which was a shamefully inadequate investigation, and its new inquiry, which was supposed to report more than a year ago, is understood to have run into a number of 'difficulties'.

The actions of CASA in relation to a pilot who may have been unlicensed for the purposes of his operations for a prolonged period of activity during which police allege he could have killed the occupants of planes which he had sabotaged require very close scrutiny by the Minister for Infrastructure, Darren Chester.

Not scrutiny passed off to his discredited civil servants who have apparently talked nonsense to him since he took up the portfolio last year.  Real scrutiny, by the Minister, of the performance of what many see as a rogue organisation that has a culture of tolerating known unsafe operations.

Will the Hoch scandal be a turning point in the restoration of effective air safety regulation in Australia, or is it just another 'nothing-to-see-here-media-beatup' along a pathway to future catastrophe?
Plus:
(01-27-2017, 07:12 AM)

Peetwo Wrote:

Update 27/01/2017: Via the Oz





Quote:CASA under fire for issuing licence to pilot under probe



Josh Hoch, right and on a Hoch Air plane, above left, has been charged with 340 offences of endangering public safety. Picture: Wesley Monts

Josh Hoch on Hoch Air charter plane. Picture: Facebook.

The Australian
12:00AM January 27, 2017
Paul Cleary
Senior writer

The charter operator charged with 340 offences of endangering public safety was issued with a CASA operator's licence as recently as last month, prompting leading figures to attack the regulator for incompetence and dysfunction.

CASA records show the regulator issued Hoch Air with an Air Operators Certificate on December 8, even though CASA had been co-operating with the Queensland Police investigation for two months. The AOC is valid for four years.

Queensland Police charged the principal and pilot Josh Hoch, 31, this week with offences that include five counts of tampering with competitors' fuel. Police allege that Mr Hoch added an "abrasive material directly into engines" which caused a catastrophic failure and forced the landing of two aircraft. Engine failure occurred to two other planes prior to take-off.

Kennedy MP Bob Katter allegedly spent $257,000 on charter flights with Hoch Air although Mr Hoch was unlicensed at the time. Mr Katter's office declined to comment. CASA's licensing of Hoch Air appears to be inconsistent with the Queensland Police statement, which says that a "review of aircraft security and passenger safety at Mount Isa Airport was immediately commenced" as part of the investigation launched in October. "Additional measures were implemented to further ensure the safety of passengers and crews," the police added.

A CASA spokeswoman said the regulator was "actively reviewing information arising out of the Queensland Police investigation and will take such further action as necessary". CASA could not comment further.

Police asked the Mount Isa Court to refuse bail, but the magistrate granted it. However, Mr Hoch's family was unable to raise the $50,000 bond by Wednesday afternoon and as a result he spent a second night in the Mount Isa watch-house.

Mr Hoch's defence lawyer, ­Michael Spearman, blasted CASA, telling the Mount Isa court:

"CASA has known about these flights since 2013. Now if CASA had any concern about a pilot it can invoke provisions of section 30DC of the Civil Aviation Act, instantly grounding a pilot if there is a serious and imminent risk to air safety.

"CASA has not done so, despite knowing of the allegations for months. These started back in October (2016) and certainly those charges from back in 2013," the Townsville Bulletin reported.

Mr Spearman added that CASA had conducted an audit of Mr Hoch and his company earlier last year, yet he was allowed to remain in the air.

Ben Morgan, executive director at Aircraft Owners and Pilots Association, said the incident showed CASA was far too focused on "misdemeanours" while allowing serious wrongdoing to go unchecked.

"If in fact CASA were not aware this is absolutely serious and it's going to need the minister's attention to work out how the regulator let this slip through the cracks," he said.

"CASA is in court with misdemeanour pilot activities when something as brazen as this has been going on for four years."

Former CASA chairman Dick Smith said the regulator was a "totally dysfunctional organisation". He said he had tried to introduce an "administrative fines system" that would replace the system of continuously writing letters to non-compliers.

The investigation also uncovered extraordinary evidence relating to the alleged grievous bodily harm of an aircraft engineer at Charters Towers in July 2014. The engineer, aged in his 60s, sustained "permanent and life-changing head injuries", the police statement said.
Now fast fwd to this:
North Queensland man's charges of interfering with planes, sabotage of planes dropped in Supreme Court
ABC North West Qld /
By Kelly Butterworth
Posted Monday 8 March 2021 at 2:51pm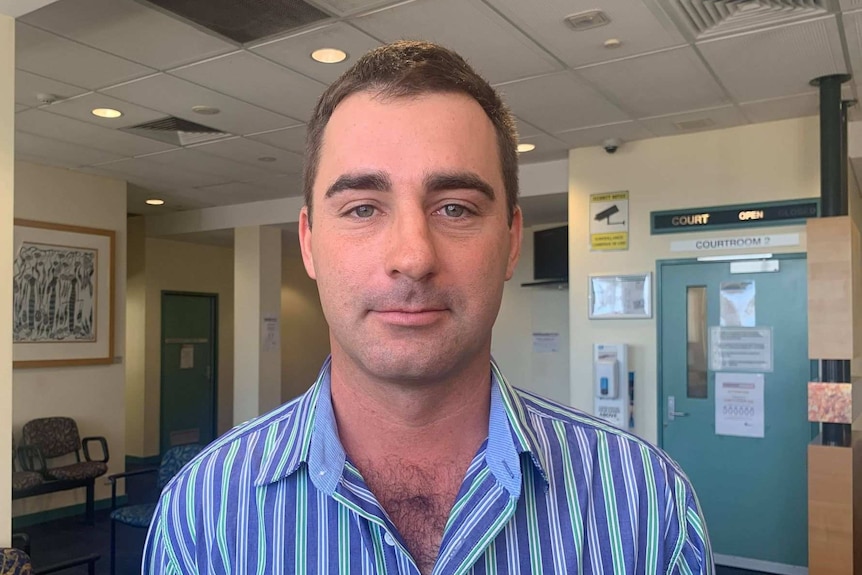 Josh Hoch was originally charged with more than 300 charges in 2017. Plane tampering charges were dropped in a Supreme Court sitting in Mount Isa.

(ABC North West Queensland: Kelly Butterworth)
A North Queensland pilot accused of tampering with his rivals' fuel tanks has had charges of interfering with planes and associated sabotage of planes dropped in a Supreme Court sitting in Mount Isa.
Key points:
Charges against former pilot Josh Hoch of tampering with the fuel tanks of a plane have been dropped in court





The jury was dismissed after one week of a trial expected to last for three





The prosecution dropped the case as it was officially concluded there was not sufficient evidence to prove it was Josh Hoch who had committed the alleged acts



Today Justice James Henry dismissed the jury after one week of the trial, which was expected to last three weeks.
Justice Henry told the jury in the first five minutes of today's sitting that the Crown would not continue to prosecute the charges relating to interfering with planes and associated sabotage.
"The short version is the case has been dropped," Justice Henry said.
He told the jury that because they had been sitting on the case for a week, he would explain the particulars of the change.



Three 'critical layers' in case



Justice Henry outlined three "critical layers" of the case which the jury had been tasked to decide upon.

The first was if the contaminants in the fuel tanks had been there as the result of human intervention, the second was if it was done as a deliberate act of sabotage, and the third was if it had been Josh Hoch who had committed the alleged acts.

Mr Henry said it was the third that "was always the prosecution's real challenge" and that they also had to prove motive, opportunity and that he had knowledge that only the offender would know.

"Perhaps unsurprisingly, the prosecution put up the white flag and has dropped the case," Justice Henry said.

"It has been officially concluded, it was not sufficient to pursue a case."

Mr Hoch has further charges proceeding in the District and Magistrates courts.
---
Which then led to this in Senate Estimates: Ref - 
Hansard out
Quote:

Hmm...still trying to get my head around this -  






Quote: Wrote:

CHAIR:

 I've got a couple of questions about a case that's just been completed in the Supreme Court but held in Mount Isa. Judge Henry said that he'd dismissed the jury—this is the Josh Hoch case—telling them that the case had been dropped. He said, 'Evidence linking Mr Hoch to the alleged crimes was lacking,' and he 'officially concluded it was not sufficient to pursue a case'. That is a case that was scheduled to go for three weeks and went for three days. After a 

120,000-page brief of evidence

, they didn't have enough evidence to get past three days. I understand that the police have been collecting evidence for CASA's trial against Mr Hoch. How is your confidence, in your case, now that it has just been thrown out after such a short amount of time and the judge was scathing in his comments?




A 120k brief of evidence - UFB! I can't even imagine what that looks like but I can imagine the Judge's incredulity when faced with such a mountain of paper. Is it any wonder the case was chucked out -  





However note the comments in bold from two of the most senior members of the current crop of self-serving, self-preserving, fat cat executives at CASA... 

 





Quote: Wrote: 

CHAIR:

 Alright. There is an interesting question—I guess this is potentially more for the police, but it applies to CASA as well—about what it costs you to collect this evidence for a prosecutor to take forward. Do you feel that the amount of time and effort you are taking to pursue some of these cases is reasonable and that the outcomes are reasonable?
Dr Aleck 

:

 

By and large, yes, I do. Certainly in this case I do.

 Some very serious charges were laid, and some very serious issues were raised in this case.


CHAIR:

 For which it was found that he did not have a case to answer. The estimate is $300,000, at least.
Dr Aleck 

:

 That part I can't speak to, because we weren't involved in that, but that's one part of a much larger case. There are proceedings for Commonwealth and state offences as well.


CHAIR:

 But the Queensland police collected the evidence for both?
Dr Aleck 

:

 They were involved in much of it, but so were our investigators.


CHAIR:

 If you're satisfied, Dr Aleck, then we'll continue, but I just feel horrified for this person. After hundreds of thousands of dollars in legal fees and a case that's been thrown out, I hope that you have good grounds for proceeding and that they are reasonable and fair. I think this is an Australian who has been treated poorly.
Dr Aleck 

:

 

I'm hopeful and confident that the case that CASA was involved in won't be thrown out, but that remains to be seen.


Mr Crawford 

:

 

We believe it is reasonable and fair.




CHAIR:

 You believe it is reasonable and fair?
Mr Crawford 

:

 

Yes. That's our position at the moment.
And: 
https://auntypru.com/sbg-28-03-21-on-the...e-journey/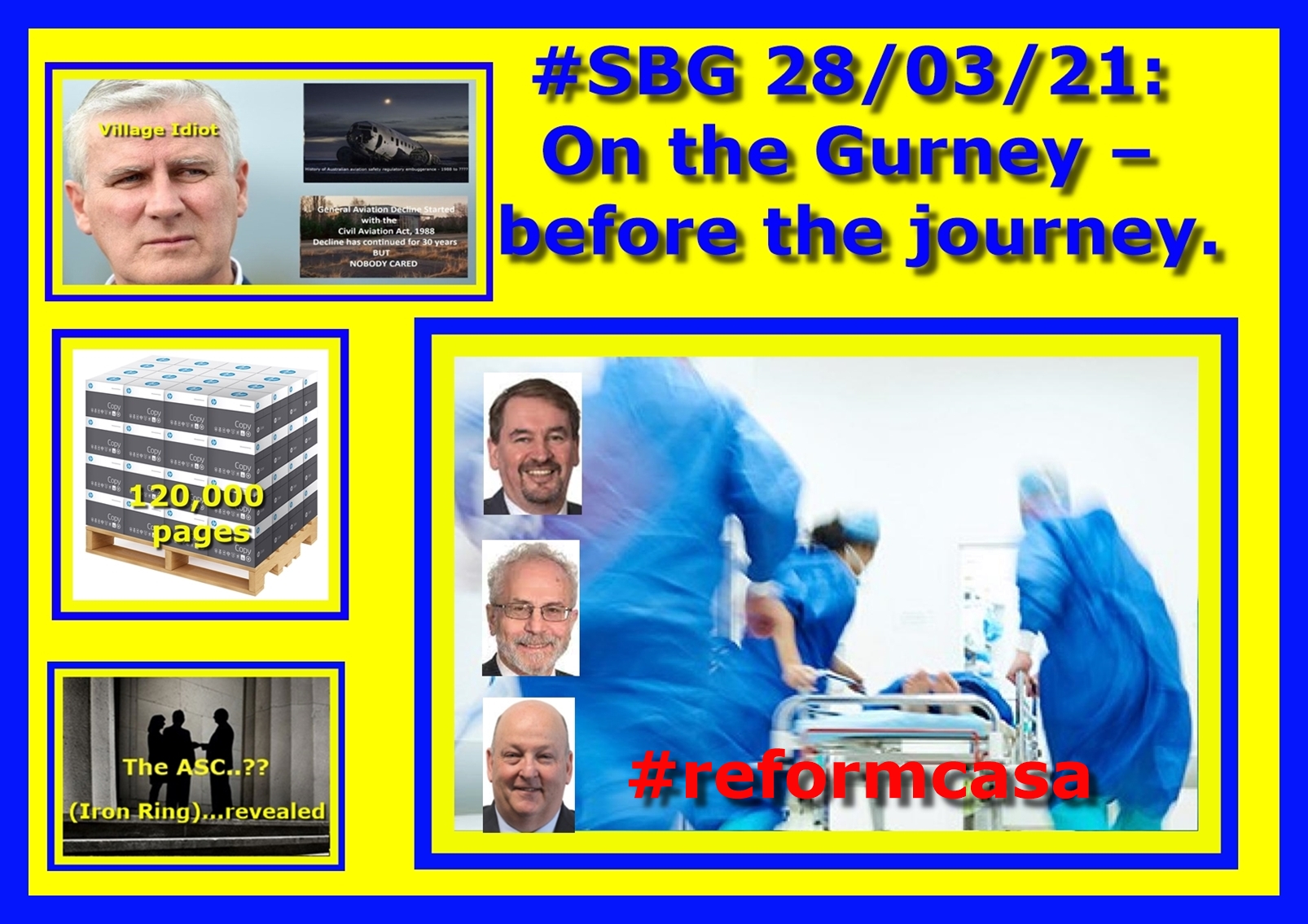 No idea how much this bungled case has cost so far but IMO you couldn't ask for a clearer example of legal and regulatory incompetence by CASA and why Dr Aleck (and his Iron Ring sycophants) need to be sent packing ASAP - 

MTF...P2