CASR 175 certification?
Apparently in a quiet moment less than a week ago, after a year of transition, the CASA AAD officially
rubberstamped
...err certified ASA under CASR 175.
Strangely this was done with little to no fanfare and with only a Hoody & Cromarty handshake happy snap taken for posterity: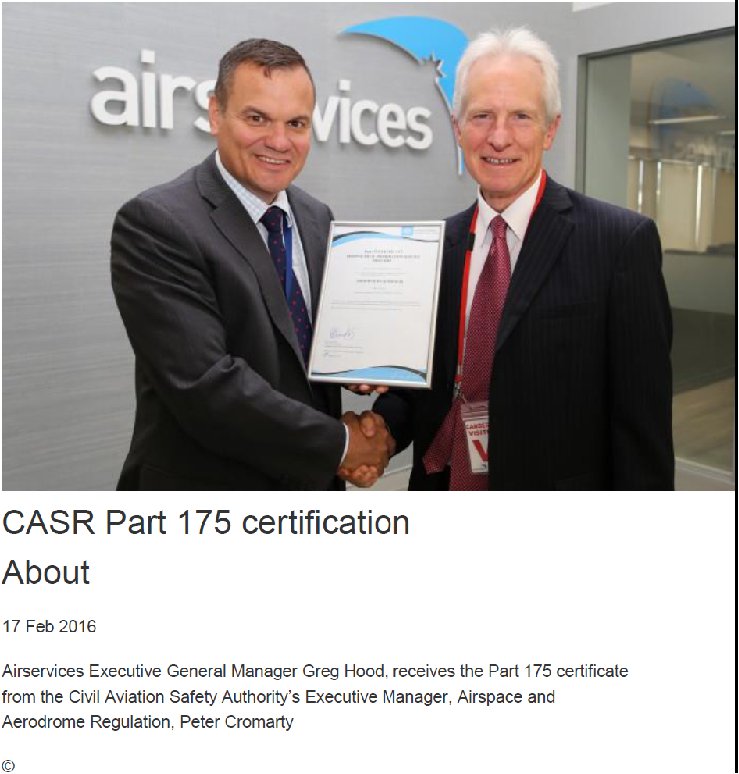 Maybe it is just me but I would have thought this was a proud moment in the history of ASA..

I also find it 'passing strange' that Cromarty did not mention, while under questioning from the Senators at Estimates, that the AAD had (presumably) recently audited ASA in preparation for the rubberstamping of the CASR 175 certificate..

  If he had of done that it may have allayed some of the Senator X recent lack of oversight concerns by CASA of ASA:
From the Senate Estimates it would also appear that everyone - ASA, CASA, Dick Smith & the Senators - except for the ATSB totally missed the incident reported in the Senate Estimates thread today:
(02-23-2016, 11:40 AM)

Peetwo Wrote:

(02-23-2016, 11:09 AM)

Peetwo Wrote:




TICK..TICK..TICK - What will it take?



From off the 'bump in the night' thread post #269



Quote:"..Compared with other countries, in Australia you are almost in complete silence all the time. I have said to the air traffic controllers, 'But couldn't you do a little bit more of a workload and actually give us an air traffic control service where we need it?' And quite a few of the controllers have said to me, 'Well, of course we can, but don't tell anyone I told you that'! I fly to Ballina from time to time, and you get this superb service from Bankstown's air traffic control; you just do what you are told. You get told to taxi out to the runway, and you ask for a clearance for take-off, and you take off, and the controller says 'Turn right to 120 degrees', and you meet the airway, and he or she says 'Turn left' and you follow the airway under air traffic control. The most amazing thing is that as you get to 8½ thousand feet, that is the only place on the whole trip where you can actually run into somebody. Up at 45,000 feet the airways are separated, going towards Brisbane and to the right by about 10 miles, from the one coming the other way, and up at 45,000 feet where I fly it is very unlikely for anyone to be there anyway. But when you actually get down to below 8½ thousand feet, the statistics show that is where the mid-air collisions can happen and it is where you can run into a mountain. I then get told, as the pilot—and I am a single pilot when I fly the plane; I do not have a copilot to start writing down call signs—'Traffic is'. In the worst situation, I was given four other aircraft, because the Lismore approach happens to be mingled up with the approach to Ballina. I write down on my pad, 'Four planes', and then I change off onto the aerodrome frequency and I start calling these planes and trying to sort out where they are.


To an Aussie pilot, that is just normal; that is the way we do it. But if you are a pilot from another country you simply cannot believe that a leading aviation country in the world can have something that is so archaic. If we brought in some class E airspace, as planned 20 years ago, instead of the en route controller—it is not an additional controller—giving you traffic information on three or four aircraft the controller would look at his or her radar screen down to about 3,000 feet and below the radar screen they would look at their flight strips on the electronic display, and they would separate you. It is called procedural separation. They would say, 'Hold at 6,000 feet' or 'Do the approach', and they would say, 'I'm holding an aircraft on the ground to depart.'



What I find incredible is that after 20 years we have not gotten even one airport in. And I have said to people who are against it—because resistance to change is staggering—'Let's just try one; if it is going to require hundreds of extra controllers then we obviously cannot afford it.' But my advice is that it will not. To the pilots who say they do not need it I say that I think after flying in it for three or four months you will find that it is a fantastic system.."



 


Now using Dick's example with the Ballina/Byron Gateway Airport & airspace, let's refer to a statement from local MP Mrs Elliott in yesterday's Hansard from the Federation Chamber:



Quote:Ballina is a very exciting, vibrant town. It has been experiencing growth, and part of the reason for that is the fact that it has a very busy airport which services the entire Ballina-Byron region. The future of Ballina's airport continues to look very promising, with much growth in tourism meaning record numbers of visitors and also an increase in capital to the local economy.

Whilst we hear stories of many regional airports that are struggling financially, the Ballina airport pays for itself. In fact, it generates a small operating surplus of $1.3 million a year for the Ballina Shire Council. The Ballina airport has been growing at about 10 per cent year on year and indeed will challenge Gold Coast Airport as a domestic hub for southern Byron Shire and Ballina Shire. It had a record summer which saw 46,000 passengers in January alone, which is quite a lot for a regional airport. In fact, the Commonwealth Bureau of Infrastructure, Transport and Regional Economics data last year highlighted that Ballina Byron Gateway Airport is among the fastest growing airports in Australia, and the airport has many great hopes for the future. There are plans to triple the size of its terminal building, a project costing $7.2 million.

Of course, the growth is driven by an ever-increasing number of holiday-makers to, of course, the best address in Australia, the North Coast of New South Wales. In fact, our local economy is sustained by our tourism growth, and the Ballina Byron Gateway Airport plays an important role in that.


Okay now reflect on the summary from ATSB investigation AO-2016-003:



Quote:In preparation for departure from Ballina/Byron Gateway Airport, New South Wales the crew of Airbus A320, registered VH-VQS, was in radio contact with the crew of two arriving aircraft. After establishing the intentions of the arriving aircraft, VH-VQS entered the runway and lined up. While holding prior to take-off, the crew of VH-VQS clarified their plan for maintaining altitude separation with the crew of one of the arriving aircraft. This delayed the departure of VH-VQS and resulted in the second arriving aircraft being closer to VH-VQS than anticipated as it commenced take-off. During the initial climb out, the crew of VH-VQS realised the second aircraft was closer than anticipated and reduced the rate of climb in response. After re-establishing the separation plan, the crew recommenced the climb and departed.

The investigation is continuing.


This incident may turn out to be a storm in a teacup, however the fact that the ATSB is actually investigating would seem to indicate there is a little more to it than the summary suggests??
Oh but that's a CASA issue right???

TICK...TICK....TICK...TICK...Minister?? MTF...P2