Public anger & opinion droned out by bureaucratic self-interest and corruption -

(02-02-2019, 08:18 AM)

Kharon Wrote:

CASA has downed more planes than the Red Baron,"






Love it – Quote of the year entry.



Mr Katter said, adding the authority had

"[repeatedly] displayed its ineptitude."



I once had the pleasure of a long 'chat' with Bob Katter related to 'matters aeronautical'. I liked the bloke and the depth of his aviation knowledge surprised me. He actually not only 'gets' the shine and spin on the mudguard but completely understands that below the mudguard the dirt and road kill remnants are a thick ugly composite; untended, until a chunk breaks off, to be swept off the road by the ever ready departmental clean up squads.

"One politician who has called on the federal government, particularly transport minister Michael McCormack. to intervene is Queensland opposition spokesman on emergency services and volunteers, Lachlan Millar."



"I am outraged that an unelected bureaucrat can ground the charity, Angel Flight, with a flick of a pen and no federal parliamentary scrutiny,"

he said.

He, by being 'outraged' joins the long industry Conga line of the 'outraged'. Industry has gone over a thirty odd year period from being annoyed, to angry, to furious through outraged to mild, uncomplaining acceptance. This despite the 'sound and fury' of occasional political outbursts – begs the question - has anything really changed?

The answer is both Yes and No. The 'Yes' element is that in over the three decades of tinkering with the aviation laws, CASA have tuned up the regulations to make themselves essentially unassailable in a legal challenge – provided the challenger can fund such a match against the bottomless pit of public money available to CASA. They have also managed to become completely ungoverned and totally unaccountable. Oh, the Senate committee's have tried, only to retire, beaten and humiliated when their pronouncements and condemnation is brushed aside. Treated as the irrelevant opinions of those who don't signify. Dismissed as the barking of a neighbours dog.

The 'No' element depends very much on which side of the paddock you stand. From a 'safety' perspective very much has changed. We have our share of accidents, incidents and close calls as does every aviation nation. This, despite the ever more complex and convoluted rule sets. Enforced Black letter law has a serious negative impact on 'safety'. – Everyone involved is unafraid of the inherent risks of air operations, 99% try their utmost to mitigate those risks – within operational and budgetary limitations.  When funds and resources must be diverted from 'operational' risk mitigation to administrative compliance then the balance is altered – to the detriment  of 'real life' safety. The days of a new fellah having a chat with the chief pilot – admitting a major duck-up are long gone. The unfortunate is left to worry about being caught out, without the benefit of a 'chat' and perhaps a bollocking. A 'law' has been broken – would you walk into the local cop shop and admit to breaking the road rules; or driving under the influence? Do we still have the luxury of a self correcting system – No we do not. Has 'real' safety been improved by the edicts of CASA – No it has not. Has industry benefitted from, or likely to improve, despite the huge sums and decades of time wasted waiting on a better system? No, it most certainly has not.

So, what can the likes of Katter, Millar et al really do? The answer, based on history is Sweet Fanny Adams. The system is dysfunctional, morally bankrupt, steeped in ministerial protection; and IMO operationally 'corrupted' to the point where the ATSB is merely a catspaw of convenience. Careful examination of accidents, Senate remarks and operational standards clearly and unequivocally demonstrate this – the facts and circumstances undeniable. Yet, here we sit hoping that some political miracle will solve the problems. Do not hold your breathe; political memories (those which actually function) are short, intentions and promises disappear at the first whiff of bureaucratic 'advice' and there is a messy election on the near horizon.

Example – Angel Flight -

Angel Flight chief executive officer Marjorie Pagani slammed CASA's planned direction, which was delivered just before Christmas and

will not be subject to federal parliamentary scrutiny.



M. Pagani – Further unleashing her dismay at the potential the changes would have on what has become an essential service, conducting 4000 trips a year, Ms Pagani was critical of the way

CASA had apparently circumvented the usual regulatory process,

and what she said was the "invention" of a community service flight category.

Toot – BOHICA – Toot.
From Bob Katter's website: 
https://www.bobkatter.com.au/media/media...a-releases
Quote:

Katter shoots downs CASA overhaul that could kill Angel Flight



KAP Leader and Federal Member for Kennedy Bob Katter has called out the Civil Aviation Safety Authority (CASA) for its latest show of incompetence that could kill charity Angel Flight.

"One of Dick Smith's finest moments was his attack upon CASA; CASA has downed more planes than the Red Baron," Mr Katter said, adding the Authority had repeatedly displayed its ineptitude.

"The mind-numbing hypocrisy and incompetence of this organisation is clearly demonstrated by the repeated and continuous efforts that we have made to get the warning sounders onto helicopters; because of the mustering, geological and Telstra helicopters, because of the highest mountains in Australia, every North Queenslander is familiar with the chopper industry."



More than half of six fatalities over a three-year period were attributed to collisions with powerlines, Mr Katter said, which could have be avoided if a couple of hundred dollars had been spent on a $200,000 helicopter to install a warning signal device. And yet, they were still not there.


"One lawyer claims to have won around 70 cases against CASA; it may be because he's a brilliant lawyer, but it may also be because of the excessive fanatical conciliatory of people who are sick with power, blinded out of doing their job properly," Mr Katter said.

"To take Angel Flight out of the skies is to remove the mantle of safety put there by Reverend John Flynn and his Royal Flying Doctor Service, and I speak with great passion because both my father and his brother died at the hands of that Australian tyrant – the tyranny of distance. My uncle had a near-fatal rugby league injury, there were no planes handy and by the time fledgling Qantas got a plane from Longreach to Cloncurry and back to Brisbane, near-fatal had become fatal. My father's scheduled prostate operation was postponed because of pilot strike. By the time he got from Mt Isa to Brisbane for the operation, it was too late; the cancer had spread. So when you protect your precious statistics, that conciliatory is costing us lives. It is quite clear to me these very generous self-sacrificing pilot-owners cannot afford to take the risks of CASA prosecutions – the safety Nazis – and we will lose this wonderful service," he said.

Research is currently being undertaken but Mr Katter said it appeared the number of light aircraft registered in North Queensland (population over one million) had halved and initial research indicated the major cause was CASA.

"We have contacted the Minister for Transport and demanded his immediate intervention and asked rural chambers of commerce, flyers, clubs and councils to join the fight on this issue."



-ENDS-
Slight drift here but you'll get the picture very soon...

The following is a letter to the editor in the Can'tberra times:  
Quote:

Drone debate drags on as public anger drowned out





By Letters to the editor




2 February 2019 — 12:00am



The ACT government and Project Wing can put whatever spin they like on its drone operations in the ACT.

The fact remains the people who have been subjected to these drone ''trials'' have rejected them. The fact is that anyone who hasn't been subjected to the drones is not qualified to comment. The people of Royalla rejected the drones. The people of Bonython have rejected the drones (80 per cent).

The people of Gungahlin will decide for themselves about the drones.

[img=788x0]https://static.ffx.io/images/$zoom_0.53%2C$multiply_1%2C$ratio_1.776846%2C$width_1059%2C$x_0%2C$y_0/t_crop_custom/w_375/q_86%2Cf_auto/c3d9f59468d726b785790d953ee50e05292883d8[/img]



Drones being tested at Fernleigh Park.



The people of Bonython feel unsafe, violated and angry. They were not asked how they felt about this.

No one is responsible for regulation/compliance enforcement of the noise of the drones. Drone noise has been measured at 80 decibels during a neighbourhood delivery on a weekend.

EPA regulations disallow weekend residential noise over 35 decibels. There is documented evidence of regulatory loopholes and lack of proper government oversight and due diligence in regards to the Project Wing Bonython drone ''trial''.

The enabling of Project Wing suburban drone delivery operations in the ACT smacks of business and governments running roughshod over the people. Sound familiar?

We live in a democracy: ''government in which the supreme power is vested in the people and exercised by them directly.''

That is why there is now an ACT Legislative Assembly Inquiry into Drone Delivery Systems in the ACT. Because the people have spoken.



Robyn McIntyre, Bonython
'Sound familiar'? Oh yes much like in the CASA 'law unto themselves' embuggerance of Bruce Rhoades...
Quote:

"And thus I clothe my naked villainy"

– AP Forum version.
Late start this morning – much to consider and read; mostly to do with Bruce Roades and his run in with at the CASA gristmill. The story begins with tragedy, a failed engine leading to an air accident, 

ending with a fatality

. A raw day for all concerned; services swung into action and did their usual sterling work (thank you – once again); ATSB arrived 'on-site' and began the task of 'investigation'. This is what we have become used to after an accident; the ATSB attempts to define what happened, why and place, when required, some form of advisory or recommendation designed to prevent a reoccurrence. The CASA often buy in, they are quite entitled to run an investigation; there are matters which they need to be across, matters of law and operational well being. So the scene is set.


---
...; or the embuggerance of Angel Flight once parliament had risen and just before Xmas; or in the case of the Essendon DFO crash, the Hooded Canary's 'blame it all on the pilot' (fraudulent) exercise to provide top-cover for CASA, the Department of Infrastructure and the big developers DFO trough model (racket) around airports...    
Quote:

"..DFO centres have traditionally been located around airports: a side effect of the Airports Act of 1996, the 

Commonwealth Government

 has planning control over the land, meaning state planning legislation can be bypassed by developers..."





Part II - Hooded Canary cover-ups & libelous disconnections?
...while negligently ignoring the very live risk to both public and employee safety everyday that the sun continues to rise over Essendon Fields Airport and the DFO complex....

Out of all the fire & brimstone rhetoric surrounding the above Angel flight articles..videos..interviews..etc..etc the most telling statement comment IMO came from Carmody Capers:
Quote:  CASA chief executive Shane Carmody said

they believed it was "appropriate to establish a regulatory baseline that provided clarity regarding an appropriate minimum safety standard".






He said that would relate to licensing and medical requirements for pilots, minimum pilot experience and maintenance-­related enhancements.



"

People who use these flights might be surprised there is no standard requirements for private pilot licence holders," Mr Carmody said. "We are proposing small but significant safety enhancements (because) we want to help these organisations maintain public confidence through improved safety."





He said a public consultation period that closed yesterday had received about 160 submissions, nearly half of which came from pilots who fly community service flights.
In other words Carmody fully intends to ignore all the protestations and the normal due democratic processes...

This brings me back full circle to 3rd of January statement by Angel Flight CEO Marjorie Pagani...
..But I think the real focus is on how they are attempting to bypass proper democratic and legislative processes ( quite apart from lack of consultation with AF and industry). To take away rights or impose restrictions on licence holders, with the stroke of the CEO's pen, is

dictatorial and an abuse of process

... 
And from SA RC Commissioner Bret Walker SC - Ref from pg 698 of the report: 
https://www.mdbrc.sa.gov.au/sites/defaul...1548898371
Quote:Discussion

As is evidenced by the discussion above concerning the merits of the NWC, the
findings of the Productivity Commission concerning the failings of the MDBA, including
in the context of lack of transparency, very much accord with evidence heard in this
Commission. These matters are discussed further in Chapter 18. Likewise, the observations
that the MDBA cannot mark its own work, and there must be an independent auditing
function conducted outside of the MDBA, which is currently wanting, are compelling in
their merit and utility.
In its recent report, the Rural and Regional Affairs and Transport References
Committee recommended that the Australian Government support the Productivity
Commission's draft recommendation to separate the MDBA into two entities, and that
sufficient resources be provided to the regulator.

72



Merely separating functions so as to remove these institutional conflicts will not
guarantee improvement in the present shortcomings in the MDBA's capacity to critique
its performance, internally and continuously, as a genuinely scientifically guided entity
should. The current and mulish non-disclosure inculcated in the leadership cadre of the
MDBA is, after all, calculated to impede a truly outside auditor. The national need is
therefore a separate audit function by empowered and resourced experts — and also
the maintenance and reinforcement of a frequent, regular and published self-report by
the MDBA, with named senior individuals taking responsibility for the merits of those
reports.

It is concerning, albeit no longer surprising, that neither the DAWR nor the
MDBA appear to have heard or heeded the messages, received loud and clear during
this Commission, of discontent and lack of trust in the MDBA. Perhaps the advent of the

Claydon Review, about which further information was limited as at the date of writing,
may presage some meaningful impact on the issues of MDBA governance.



Conclusion



The pursuit of the objects and purposes of the Water Act, primarily through the
implementation of the Basin Plan, has been and will continue to be a complex process.
The sheer complexity of the inter-connectedness and operations of the Basin and its water
resources necessarily demands that it be so. Given that, a sound legislative framework is
an essential starting point to ensure good governance.

The Water Act provides a unique and sound framework within which to pursue the
implementation of the Basin Plan, but, as with any complex process, must be the subject
of continuous review and, where necessary, reform.

With some readily achievable adjustments to the current governance arrangements,
driven largely through legislative amendment, and provided the political will exists,
necessary improvements will be achievable in the ongoing implementation of the Basin
Plan. Those steps are likely to be essential to the task of rebuilding trust among Basin
communities and stakeholders which have arisen, in part at least, due to failures by the
MDBA to exercise good governance.




---


Ref: https://www.abc.net.au/news/2019-01-31/m...s/10766106




Murray-Darling Basin Royal Commission slams authority for 'maladministration'


By 

Marty McCarthy

, 

Kath Sullivan,

 

Sarah Scopelianos

 and 

Tom Fedorowytsch


Updated Fri at 12:55am





PHOTO:

 The former Labor government announced a royal commission after an ABC investigation. 

(Supplied: Mark Moxham)





Quote:

"...The Murray-Darling Basin Royal Commission has found Commonwealth officials committed gross maladministration, negligence and unlawful actions in drawing up the multi-billion-dollar deal to save Australia's largest river system..."




---

Ref: 

Federal ICAC NOW!





"..The commissioner described the agency's "weasel word" claims of being a transparent and accountable organisation as Orwellian in the face of its refusal to cooperate with the commission or the external scientific community. Walker appears to have ample justification for his belief that claims of transparency were disingenuous: the MDBA sought an injunction against the state of South Australia and the commissioner to prevent its people from being summoned to give evidence..."
With a slight flip of some words and with the replacement of MDBA with CASA, it is not very hard to see the parallels. However a quick flick thru the media coverage in recent days on this damning RC report would seem to indicate already that the important Walker findings, conclusions and recommendations have already been consigned to political oblivion in the huge and expensive shelfware archives for Royal Commissions and parliamentary inquiries...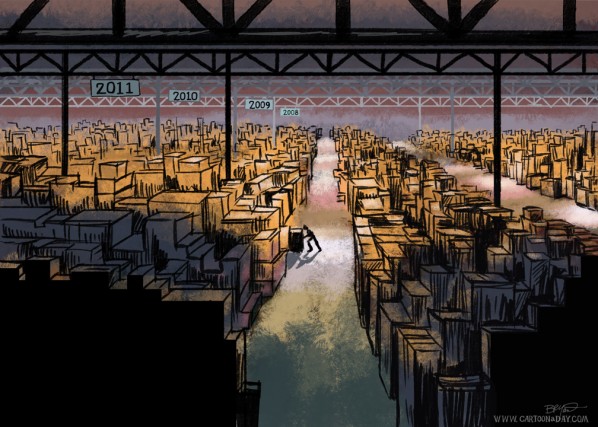 MTF I believe in this week's SBG...P2