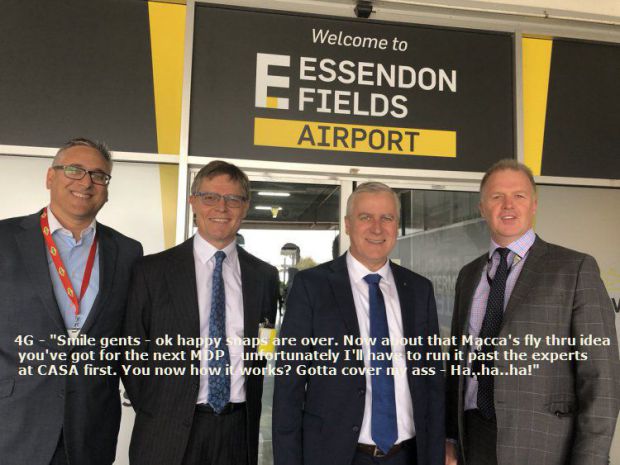 ---
Ref:
https://auntypru.com/?s=essendon+dfo+accident
Quote:...The Australian Government has marked International Civil Aviation Day by announcing it will stand for re-election to the International Civil Aviation Organisation (ICAO) Council in 2019.

Deputy Prime Minister, Nationals' Leader and Minister for Infrastructure, Transport and Regional Development Michael McCormack said continued membership on the ICAO Council would allow Australia to secure a safer and stronger global aviation sector for the future.

"International Civil Aviation Day is the perfect time to remember as global aviation continues to grow, collaboration, co-operation and consensus-building among all states has never been more important," Mr McCormack said.

"Re-election to the Council will see Australia continue our major contribution to the work of ICAO and with our global aviation partners to promote a safe, efficient, secure and sustainable civil aviation sector.

"This is an opportunity for us to highlight and re-affirm the strategic importance of civil aviation as a way to connect the world and as a fundamental enabler of social and economic development."

Assistant Minister to the Deputy Prime Minister Andrew Broad, who yesterday addressed diplomatic partners and aviation sector leaders in Canberra to mark International Civil Aviation Day and launch Australia's re-election bid, said aviation was critical to connecting people across Australia, from our capital cities right down to remote communities.

"Our aviation industry links our fresh produce to export markets, underpins our dynamic and growing tourism sector and links Australians to the globe for travel and to connect family and friends," Mr Broad said.

"This year's International Civil Aviation Day theme 'Working Together to Ensure No Country is Left Behind' is appropriate given Australia's strong regional leadership role in aviation capacity-building, collaborative engagement with neighbours such as Indonesia and Papua New Guinea and support of regional initiatives such as the Pacific Aviation Safety Office and Regional Aviation Safety Group.

"We are committed to growing and strengthening aviation both in our immediate region and globally—recognising the role of aviation as a catalyst for economic growth and development." - reference: http://www.auntypru.com/forum/thread-139...ml#pid9651
If you ever wanted a better example of why it is the miniscule McDo'Naught will not even entertain the thought that his aviation safety bureaucracy is taking the Mickey Bliss out of both him and the ICAO muppets, while the slices of Swiss cheese are 'thinned to the absolute minimum required by law' and serious identified aviation safety issues continue to be effectively ignored, then go no further than the following article in the Oz...

https://www.google.com/url?sa=i&source=i...1091872728
Quote:

Weighty win for Essendon airport



The Australian





A change in federal government regulation is set to cement Essendon Fields Airport as Australia's corporate jet capital.





From today, the airport will be able to accommodate private jets up to 50 tonnes, five tonnes more than the previous limit. It's a significant win for Essendon Fields, which acts as a base for 65 corporate jets, up from only nine in 2000.





Chief executive Chris Cowan said the airport was now well positioned to accommodate the latest corporate jets, which were larger, heavier and faster.





"Business aviation is all about 'fly anywhere, any time'. The passengers are time-poor, they're businesspeople and they need to get away fast," Mr Cowan said.





"The new bigger jets, like Bombardier's Global 7500, has a wingspan of 34m. It doesn't necessarily carry more passengers but it has better performance and range so it can fly further and get up in the air quicker."





With a range of 14,260km, the Global 7500 can fly further than a Boeing 777-200 or 747-400, and seats up to 19 passengers.





The airport's first customer to benefit from the regulation change, a Gulfstream G650, will undergo maintenance at Essendon Fields this month. The G650 has a slightly smaller range than the Global 7500 at 12,964km, but the same 19-passenger capacity.





"The G650 and Global 7500 are cutting-edge aircraft," Mr Cowan said. "Because their performance is better, they use less runway on takeoff and landing. They can land in less than 1000m, they're pretty amazing."





Transport Minister Michael McCormack said the weight increase would cement Essendon Fields' place as one of Australia's major regional and corporate jet airports.





On the subject of those operating the jets, Mr Cowan said the business aviation industry demanded a high level of discretion,





"They're business executives, captains of industry, so to speak," he said. "There's a close association between successful companies and successful people and business jets."





As the operator of Platinum Business Aviation, based at Essendon Fields, former world motorcycle champion Mick Doohan welcomed the weight increase.





He said being able to land the latest generation of corporate aircraft within 10 minutes of the City of Melbourne would assist in attracting more foreign investment to Victoria.





"Current owners of corporate aircraft based at Essendon Fields will now have the option to upgrade their fleet to these ultra long-range efficient aircraft," Mr Doohan said.
Hmm...no comment - 

MTF...P2