McDo'Naut does naut on airports vs airlines war - Part II
Via the Oz today:
Quote:

Airports earn too much: airlines




ROBYN IRONSIDE




Australia's major airlines say airports have become too profitable since privatisation due to the light-handed monitoring regime.




---

Australia's airports have become too profitable since deregulation: airlines





Australia's major airlines say airports have become too profitable since privatisation as a result of light-handed monitoring, and more regulation would provide significant cost benefits for consumers.





In a detailed submission to the Productivity Commission inquiry into economic regulation of airports, Airlines for Australia and New Zealand (A4ANZ), representing Qantas, Virgin Australia, Regional Express and Air New Zealand, said the existing regulatory system was "powerless to curtail the mono­poly power of airports".





The PC inquiry was established following concerns raised by Australian Competition & Consumer Commission chairman Rod Sims about the lack of constraint on airports' market power.





The ACCC plays a price-monitoring role for the four major airports, publishing an annual report on their performance in the areas of aeronautical charges, retail tenancies, parking and ground transport. But A4ANZ chairman Graeme Samuel said the existing regime was failing to facilitate commercial negotiations between airports and their customers.





"This should not come as a surprise to anyone, as monopolists will overcharge unless faced with a credible threat of regulation," said Mr Samuel, a former ACCC chairman. "A4ANZ's position is supported by all the expert advice we received that the current system is not sustainable. It lacks a credible threat."





He said financial modelling by Frontier Economics had found there could be a cost benefit of $18 billion from more effective regulation.





Among the injustices highlighted in the submission was the price of food and pharmaceuticals at Sydney, Melbourne, Brisbane and Perth airports, which tended to be about 25 per cent higher than at shops a few kilometres away.





The submission also noted the 25 per cent per passenger increase in aeronautical revenue at the four major airports in the past decade.





A4ANZ chief executive Alison Roberts said something had to change if consumers were to be shielded from the impact of what was ahead. "While airlines have been able to keep downward pressure on airfares over the past decade, globally, fares are expected to rise next year," Dr Roberts said.





The airlines' call for greater airport regulation was not shared by Infrastructure Partnerships Australia, whose submission said any adverse change to the current "light-handed" monitoring could distort investment incentives.





The inquiry is expected to report next year.
Meanwhile in Can'tberra McDo'Naut does naut on anything aviation related...

---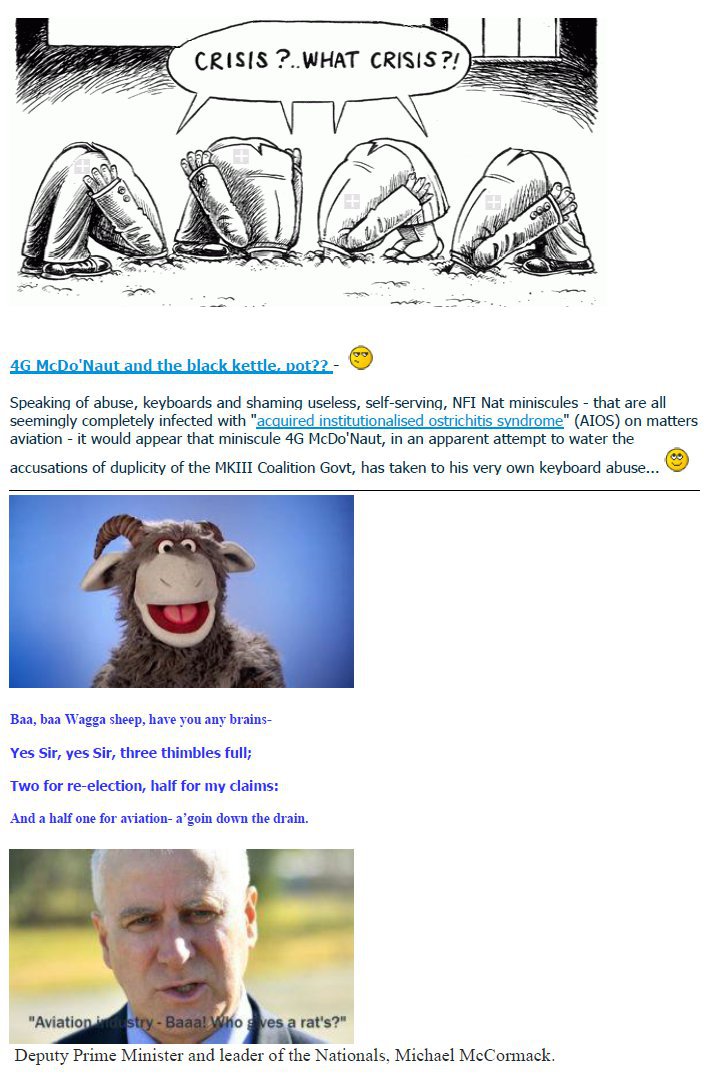 ---
MTF...P2