07-23-2018, 08:16 PM

(This post was last modified: 07-24-2018, 08:19 AM by

Kharon

.

Edit Reason: Sticky 'T'

)
Gloves off – round two. Ripper.
Great – now we can analyse exactly what McDo-Nought is actually doing (or not doing), as the case may be.
The fiasco at Armidale is typical of the 'public' problem the council have created for the miniscule – after Murky and his minions created the problem through a clever slight of hand which made some money – with strings – for a government. It seems Armidale was granted the money for upgrade – from the government. That money was spent on tarting up the terminal and making it all pretty. Fair enough – an ILS would have been a better investment, but lets not worry about 'safety'. So, with 'gifted money' the idiot council want to charge more for the cosmetics. What councils seem to forget is that if the route is not viable – as in not  profitable – the airlines have no need to operate there. Non whatsoever. Tamworth is pretty close for country folk – a car rental for those not. So Armidale suffers while Tamworth prospers – great move councillors. The Nat's will now have to face the seriously pissed off residents of Armidale, the business owners and those in the surrounding districts; explaining that it ain't either the Nat's problem or the governments. Old Tony Windsor will be laughing his mouldy socks off. Ayup – welcome to real world McDo-Naught. Can't wait to see your advisor's advice on how to deal with this one.  
The miniscule and his acolyte have already lost considerable ground in this area of the nation; probably from Wagga to Armidale. I could go on – but #1 Son; IMO, nailed the 'miniscule' to the Judas tree a Sunday or so ago. Herewith, my vicarious contribution to this discussion. My advice to the miniscule – get some real advice. What you have now is doing you no favours – quite the reverse.
"K" -
I can't wrap up Wagga without some words about the thing which wears the ministerial hat; I tried to, but in the interest of making change happen, we need to look closely at the man who's say-so holds the keys. Now my Grand Papa was a canny trader of horses; not only did he know horses very well indeed, but he was a close student of those as sold 'em. I doubt he would buy anything the miniscule tried to sell him, how could he? When a fellah tells you four times, within four minutes how 'genuine' he is you have to wonder who he is trying to convince. When a supposedly clever 'politician' can be unmanned and left flat footed on the start line, you have to wonder if his IQ is the same size as his boots. Magic Minty stole the march and the miniscule never recovered. Left floundering in the mire, spending the next ten dreary minutes back peddling, unable to respond to a direct question. You have to wonder if there is any value in the man at all. This same fellah then went on to try and explain how, despite having bi-partisan support available (confirmed by Albo), how difficult it would be to get anything through the parliament – add bull-shit to bollocks. Hardly a great vote inspiring performance from the Darren 7D stable – Mike 4G - also ran……Genuine alright - Genuinely full of shite.
While Mike 4G was preening in front of the TV camera after beating a hasty retreat; there were some experienced eyes watching the Senate table. It was after all, the only table which really mattered. Doc Jane was there, no praise is high enough for the diligence and work ethic shown by the Secretariat. The Senate committee will be provided a full, accurate briefing and, some clever insight, thanks to her efforts. That said, those attending stayed the whole course and listened and talked then listened some more. Fraser Anning impressed as much as Mike 4G failed to do. Anning's short speech reflecting a genuine understanding of how far aviation has regressed. Slade Brockman another 'man of the people' who shared every coffee break with anyone who wanted to chat – WA has a load of aviation activity and the Senator seems to understand the burgeoning problem. Fawcett, Patrick and Forsyth were represented by folk who said little, listened carefully and were prepared to engage in conversation. A breath of fresh air and hope after the 4G dismal waffle session. Quite restored my faith in the Senate Committee.
Is that little danger bell ringing yet miniscule? It bloody well aught to be.
The hybrid Kiwi/Sandpit crew have been practicing; let's see: double 20, treble twenty and a twenty should set them back a bit – Shanghai to win. "Yes leave 'em there Sweetheart – I'll be back. (Tension mounts)……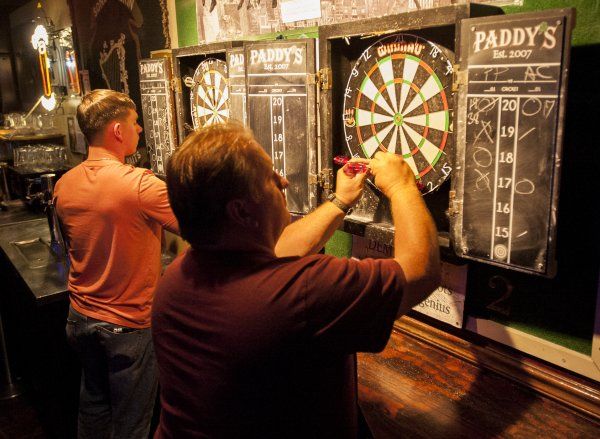 The game is called Cricket; or, Mickey Mouse. Not for those of  feint heart, or them as can't shoot straight. My Ale awaits..........