G®-8 test case for miniscule change to the Act??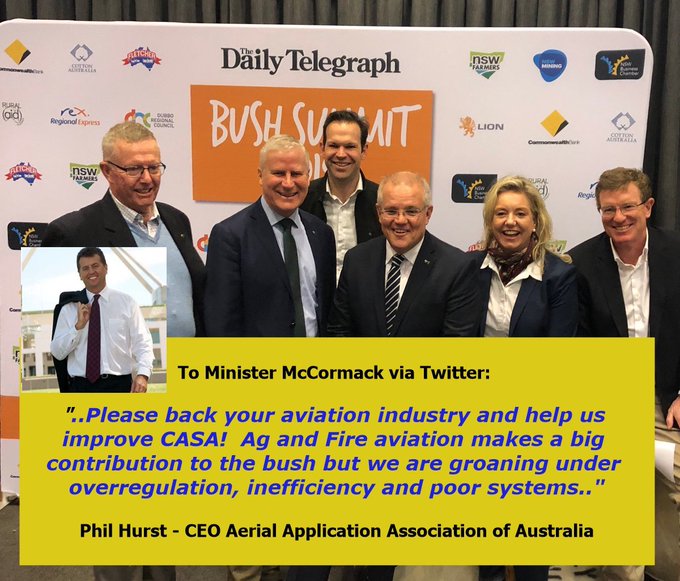 Just splice this together with the addition of this article by Ironsider, courtesy of the Oz...

Quote:July 26, 2019



Aviation


Airvan grounding proves costly






Australian charter flight operators claim to have lost tens of thousands of dollars a day as a result of the grounding of an aircraft involved in Sweden's deadliest crash in 30 years.





The Civil Aviation Safety Authority is expected to soon lift the temporary grounding of the GippsAero GA8 Airvan imposed last Saturday, after reports a wing detachment caused the July 14 crash that killed nine people.





Of the 228 GA8 Airvans currently in operation worldwide, 63 are registered in Australia, most of which ere used in commercial operations such as skydiving, scenic flights and charters.





Ben Wyndham from the Australian Aircraft Owners and Pilots Association (AOPA) said they were expecting a string of small business failures as a result of the week-long grounding.





"Some are facing losses in the vicinity of $20,000 a day," Mr Wyndham said.





"These operators have done the right thing and invested in new Australian-built aeroplanes because they're a capable machine. Unfortunately they have been let down by the Australian regulator who is being very liability gun shy."





Although he accepted the need to initially ground the aircraft, Mr Wyndham said it was quickly apparent that the Swedish crash was not related to the Australian fleet of GA8 Airvans.





"It is my understanding that the service bulletin issued late last year (relating to the wing strut attach points) has not been complied with on that aeroplane," he said. "The Australian fleet is compliant so CASA has grounded the entire fleet out of fear of liability."





Regional Aviation Association of Australia chief executive Mike Higgins said there was certainly some severe financial distress being experienced by operators of the Airvan.





But he said CASA was focused on getting the aircraft back in the air as soon as possible.





"They're pursuing this with utmost vigour and they've got their best man available on the job," Mr Higgins said.





A CASA spokesman said the break up of the GA8 in Sweden appeared "highly abnormal" and the risk to safety was not initially understood.





"CASA took a precautionary approach to ground the fleet for a short period of time to ascertain a better understanding and the extent of any risk to the world fleet. The suspension is a short term precaution," he said.





"CASA based this safety decision on the best information available from the Swedish authorities at the time."





A message to operators yesterday afternoon indicated an update to the temporary grounding directive would be issued "as soon as possible"
Which then flows onto this...
(07-26-2019, 02:28 PM)

Peetwo Wrote:

(07-18-2019, 08:45 AM)

Kharon Wrote: On P-Prune forum –

HERE

– some sensible commentary on the Swedish G8 accident has been posted. Thanks guys.

From the

'Independent

a little deeper coverage.



Sweden plane crash: Nine dead after aircraft carrying parachutists crashes into island



Nine people have been killed after the plane carrying them to carry out a parachute jump crashed into an island in eastern Sweden, local media reported on Sunday.

The plane left Umea airport shortly after 1.30pm, The Local reported, and sounded an alarm at 2.12pm, before crashing. Region Vasterbotten municipality spokeswoman Gabriella Bandling said: "I can confirm that all those aboard the plane have died".

Speaking to regional media, witnesses have claimed they could see parachutists attempting to jump out of the plane as it careened into the ground. Footage of the crash captured by a local 16-year-old showed the plane spiralling as it nosedived into Storsandskar, an island close to the airport.

Airport operators have claimed the plane was a GippsAero GA8 Airvan – a small aircraft popular with skydiving operations that is designed to carry eight people including the pilot. Local rescue service representative Conny Qvarfordt told local media "It's a parachute plane, and something seems to have happened just after take-off."
 
https://www.pprune.org/accidents-close-c...st10518654


Update: Fort Fumble repeal grounding instrument?

Via the UP:



Quote:

Cinders

- Instrument has now been repealed. https://www.pprune.org/pacific-general-a...st10527830




---

GippsAero GA8 return to air



Date of publication: 



25 July 2019 The Civil Aviation Safety Authority has lifted a temporary suspension of GippsAero GA8 aircraft operations.





The temporary suspension of GA8 aircraft flights was put in place as a safety precaution following a recent fatal parachuting accident in Sweden.





Based on the limited information available immediately after the accident the sixty-three GA8 aircraft in Australia were grounded, as well as a number operating overseas. The suspension was in effect for five days.





The precautionary suspension was triggered by initial information from the investigation into the Swedish accident which showed the accident aircraft had broken up in flight.





CASA has now received further information that there is no evidence to indicate a potential unsafe condition associated with the aircraft and as such the GA8 aircraft type can be safely allowed to return to normal operations.





A CASA airworthiness engineer is currently observing the accident investigation in Sweden and this has proved to be very beneficial.





CASA will continue to monitor the investigation into the GA8 accident and will take appropriate action should any related safety issues become apparent in the future.





A safety assurance review of Australian parachute operations will also be conducted over coming months.





The parachuting accident happened on 14 July 2019 near Umeå in northern Sweden. None of the nine people on board the aircraft survived the accident.





The GA8 is manufactured in Australia by GippsAero, which is based in the Latrobe Valley. The GA8 is a single engine high wing aeroplane with fixed tricycle landing gear. In Australia the GA8 is used in a range of operations including charter, aerial work and parachuting.


And some comments:



Quote:

Andy_RR



Could be the beginning of the end for GippsAero though. CASA has form when it comes to jerking industry's chain until it withers a la Jabiru/CAMit

Of course the winglets made in Port Melbs are also grounded so CASA should be feeling pleased with a job well done preventing any of this dangerous flying malarkey from taking place. Air safety starts and ends inside a locked hangar...



---

Horatio Leafblower





Quote:Personally I don't think 4 days suspension is the end of the world if the wing came off.


Asturias

There are a lot of business owners who would disagree with you. There was a great deal of evidence pointing to the cause, and a structural failure "just because" was not on the list. The grounding has caused incredible distress to the business owners and employees of the operators of these aircraft, not least because it was accompanied by so little information.

I asked CASA to eliminate what turned out to be the primary cause and their response was along the lines of "Of course we looked at that, you must think we're stupid, it was definitely something else". That our #1 theory has turned out to be the #1 cause says to me that the grounding was unnecessary and that there needs to be some jobs reviewed at Fort Fumble.
(07-26-2019, 06:29 PM)

Peetwo Wrote:

The Last Minute Hitch: 26 July 2019





Vale Mark Smith, Acts of parliament and the cost of a grounding, via the Yaffa:





Quote:

Quote:

what confidence can we have that the provisions of the Act will be enforced?


The 

Civil Aviation Amendment Bill 2019

 is back with the House of Reps. 

It got a good run in the Senate this week

, with the Greens pushing the hairy old barrow of interfering with aviation safety as they sought to send the bill to a committee. The red seats mostly didn't agree. Victorian 

Senator Janet Rice

 put forward the theory that general aviation needs to be looked after, but we shouldn't be asking CASA to do it; rather, it was the job of parliament. Experience has taught me that fixing general aviation is not what parliaments do. Parliaments are there to bandy about legislation, not to actually do anything; that's the theoretical role of governments. And it is this government's stated position (supported by the ALP) that safety still gets the priority over the economics of regulation. Taking that into account, it's still very hard to see how amending the Act will help GA at all. Let me reinforce that the need to consider cost is already in a legislative document: the Statement of Expectations. If that is not being properly enforced, what confidence can we have that the provisions of the Act will be enforced?



A classic case emerged this week with CASA grounding all Airvan 8s after the parachuting accident in

 

Sweden

. The Swedish authorities expressed concerns that the aircraft may have broken up in the air, leading CASA to ground all GA8s for 15 days as a precaution. They lifted the ban five days later (kudos to them), but at what cost? When asked why they felt it was paramount to ground the GA8s when a recent spate of in-flight break-ups with C210s didn't draw that reaction, I was told 

"the difference is there is specific information available for the Cessna. At this stage there is only the general observation that the Airvan may have suffered an inflight failure." 

So we've grounded the aircraft type and caused economic strain based on a "general observation". Another general observation would show that in-flight break-ups are more likely to be caused by ageing fatigue, over-loading or misuse of the controls. The oldest Airvan 8 in the world has just turned 20; not old in a fleet with an average age nearing 40 and 

unlikely

 to be suffering from fatigue. Rapid elimination means that if the Swedish Airvan did break up in the air it is most likely an over-stress situation, something not likely to have an impact on every other GA8 in the world. With only one incident on the cards, what was it that made CASA think there was an issue that was an immediate threat to safety? It doesn't matter ... with safety as their priority, they may as well ground them all because the cost to the industry is of secondary concern to the regulator.

May your gauges always be in the green.



Hitch



Read more at http://www.australianflying.com.au/the-l...OeKIOKx.99




---

Plus a comment:



Ian Tucker

 

•

 

2 hours ago





Agree with Hitch on the Civil Aviation Amendment Bill 2019. Although it is encouraging that it received bipartisan support in parliament, sadly CASA will no doubt continue it's belligerent and destructive actions against General Aviation. What mechanism is there to ensure that the CASA bureaucrats follow the expectations of parliament? Maybe a quesion for Minister McCormack.

Choccy frog again for Hitch...
"..Maybe a quesion for Minister McCormack..."

- Hmm...excellent proposition IT makes...perhaps the miniscule could run it as a test case for his department's ICAO Annex 19 approved safety management system (SSP)?? - just saying...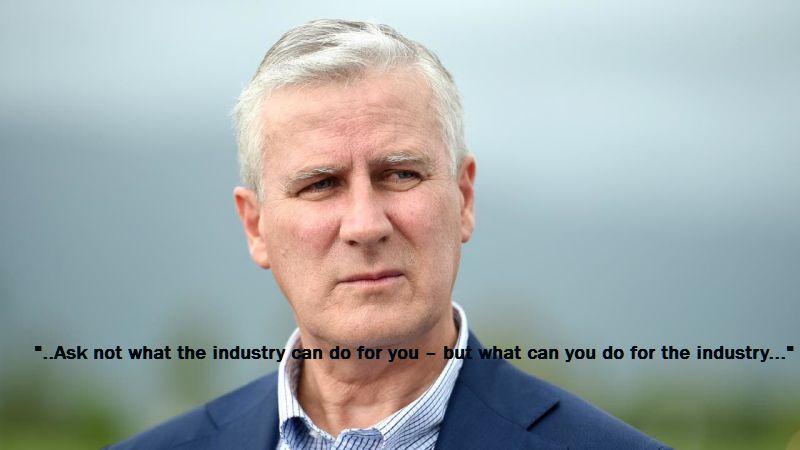 MTF...P2