Latest CofFEE report and ICAO non-compliance with Annex 14 - 

Ref from BITN thread:  
(04-18-2019, 11:43 AM)

Peetwo Wrote: Also the latest excellent University of Newcastle CofFEE report has been tabled as a UFU supplementary submission:




Quote:

10.1 Supplementary to submission 10 

(PDF 1659 KB)

 



Introduction



In February 2019 the UFUA commissioned the Centre of Full Employment and Equity
("CofFEE") to research and examine issues relevant to the Senate Inquiry into the provision
of rescue, firefighting and emergency response at Australian airports. The subsequent
report ("the Report"), which is attached to this supplementary submission, covers the
following:

 the current system of Aviation Rescue and Fire Fighting ("ARFF") at Australian
airports;
 the regulatory system governing ARFF in Australia and the international system of
compliance to standards;
 the requirements of ARFF services and compares the Australian standards with
international best practice;
 how Australian standards comply with the international standards and
recommendations;
 the cost of ARFF provision at Australian airports and reviews the pricing model used
to finance ARFF services in Australia; and
 the economic benefits of tourism and shows the links between air transport and
tourism, particularly in Australia. It goes on to examine the safety of air transport,
people's perception of the safety of air transport and the possible consequences of a
reduction in Australia's reputation as a safe place to travel.

The Report as a whole provides a detailed and substantiated overview of ARFF services in
Australia. The UFUA respectfully highlights in particular the below key points, as contained
in the Report:



Section 3

"Regulatory system of ARFF provision" presents the delay in establishing ARFF
provision at Proserpine Airport despite it having reached the 350,000-passenger movement
threshold in the2016-17 financial year.

The Report further suggests ARFF provision be extended to secondary capital city airports
that see a large volume of aircraft movements.

Additionally, the Report covers the ineffectiveness of maintaining standards under the
current regulatory system due to the exemptions process and examples of non-compliance
with current regulations and standards. The Report recommends a greater degree of
oversight and transparency regarding the rationale behind the application and granting of
exemptions, and of addressing of non-compliance.

Reference is also made to the 450 differences listed by Airservices between ICAO SARPS
and Australian ARFF regulations and practices. It is noted that, while the majority are
probably not safety issues, the sheer number of differences creates a real risk of serious
safety concerns hidden among a multitude of somewhat trivial differences.



Section 4

covers ARFF best practice and presents a comparison between a variety of
standards with those of the minimum standards established by CASA for:

 the provision of a dedicated ARFF service at an airport (4.3)

 the number of ARFF vehicles required per category of airport (4.4); and
 the quantity of water, foam and agent (4.5).

The Report finds that in all instances CASA's minimums fall below those recommended by
the recognised best practice of the National Fire Protection Administration ("NFPA") 403.

Section 4.6 compares Airservices' minimum staffing levels to those recommended by the
NFPA1, finding Airservices' minimum levels fall below those established by NFPA. Of
particular concern here is the absence of a Task Resource Analysis ("TRA") methodology by
Airservices in establishing staffing numbers. The TRA approach is recommended and
outlined by both ICAO and NFPA. The NFPA standard is that staffing levels shall be
established through a TRA based on the needs and demands of the airport. The TRA and
Workload Assessment are used to examine the effectiveness of staffing levels and to
analyse two levels of ARFF staffing, a minimum level and an optimum level. The NFPA
also provides a minimum number of ARFF-trained personnel that are required to be readily
available to respond to an incident, based on the minimum response times and extinguishing
agent discharge rates and quantities required. The staffing levels determined by the TRA
shall not be lower than the values specified in the NFPA standards.

Section 4.7 of the Report makes reference to the use of high reach extendable turrets, which
despite universal acceptance of their superiority in controlling post-crash fires and the fact
the technology has been in use for decades, are not fitted to any of Airservices' ARFF
vehicles.



Section 5

covers Australia's compliance with ICAO standards. In particular, the Report
notes that there are nineteen out of 462 differences listed regarding the provision of ARFF at
aerodromes, and of these nineteen differences, nine are classified as 'less protective or
partially implemented / not implemented'.



Section 6

breaks down the cost of ARFF provision in Australia, the current pricing structure
and alternative models of funding ARFF services. The Report refers to a number of studies
that demonstrate passengers are willing to pay more for the provision of ARFF services.
Section 7 details the relationship between tourism and air travel, the economic benefits of
tourism, its impact specifically to the Australian economy and Australia's aviation safety
record. Of particular note is a quotation from the Australian Safety Transport Bureau (page
59 the Report), which states:



"Australia holds one of the best safety records in the world. … However, a single





fatal accident involving a high capacity [regular public transport] jet aircraft would





lead to a major worsening in Australia's international position with respect to





[regular public transport] fatality rates and there is no room for complacency."



The Report subsequently examines the perception of air safety and its effect on demand
before assessing the economic loss to Australia from a potential air transport accident. It
notes that while the public's perception of air safety is a subjective matter, there is evidence
that people avoid airlines involved in accidents and that demand for all air travel falls when
there are accidents.

The lack of confidence in travellers following a serious aviation accident also translates in
dollar terms. An attempt to measure the effect a serious aviation accident would have on
Australia's tourism industry showed that total Gross Value Added would fall by almost $2.8

billion, based on a seven per cent fall in international tourists and a twelve per cent fall in
domestic tourists.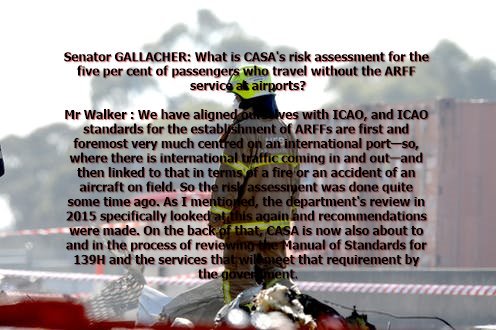 From page 36 of the CofFEE report:
Quote:






And from the summary for section 3:
Quote:The ICAO was set up following the Convention on International Civil Aviation, also known as
the Chicago Convention, signed in 1944. The ICAO sets out Standards and Recommended
Practices (SARPs) for Aerodromes in Annex 14 to the Convention on International Civil
Aviation, with Rescue and Fire Fighting at airports dealt with in Chapter 9.2 of Volume 1 of
the Annex. It is a requirement by ICAO that Member States notify the ICAO of any differences
between their national regulations and practices and the SARPs, particularly where such a
difference is important for the safety of air navigation. ICAO monitor the implementation of
the SARPs of Member States through the Universal Safety Oversight Audit Programme
(USOAP).

CASA has provided ASA with a variety of exemptions from standards and regulations, six of
which refer to ARFF. Aside from these six, it was recently revealed at Senate hearings that
ASA are non-compliant with a further two regulations despite not receiving an exemption.

There appears scope for an extra layer of oversight that may be useful in reviewing situations
such as these and exemption applications and providing recommendations on their necessity,
appropriateness and most importantly, their impact on safety standards. CASA's Aviation
Safety Advisory Panel consists of Technical Working Groups (TWG), set up to deal with
particular sectors of the industry and to offer advice. Despite a TWG on ARFF being approved,
it has yet to be established.

The USOAP, set up by ICAO to monitor compliance with their SARPs, has evolved into a
Continuous Monitoring Approach, where the emphasis is on the availability of information on
the safety performance of Member States being provided to other Member States. The
notification of differences is at the heart of the CMA, yet the degree of non-compliance is not
clearly apparent when comparisons are made between countries. Button et al. (2004) point out



the problem with the ICAO structure is that it relies heavily on voluntary involvement and




application by its Member States and the ICAO has no formal mechanisms for imposing




penalties on non-compliant States even if they are identified. Similarly, Spence et al. (2015)




claim the ICAO is powerless to enforce its SARPs
& from summary section 6:
Quote:CASA only requires ARFF at Level 1 airports, which are airports receiving scheduled
international passenger air services or those above the threshold passenger numbers referred to
above. All airports with ARFF in Australia correspond to Category 6 or above.

A survey of




similar countries and their requirements for airports to be serviced with ARFF found all other




countries had less restrictive obligations than Australia, such that if Australia adopted any of


the alternative systems, ARFF would be required at many more airports around the country.

+


As seen already CASA only requires... 
...ARFF services to be provided at airports in receipt of international passenger air services or
where passenger movements through an airport are above 350,000 over a 12 month period.

This means Australia

has ARFF services at 28 airports, despite having 195 certified airports




around the country.



In the US and UK, ARFF services are required at all certified (or licenced) airports. In the US,
airports where scheduled flights with more than nine seats (or unscheduled flights with more
than 30 seats) take-off or land are required to be certified. In the UK, CAP 168 prescribes
"Rescue and fire fighting equipment and services shall be provided at an (licenced) aerodrome"
(CAA, 2019, p. 364). There, aircraft whose total maximum weight is greater than 2,730 kg
which are being used for commercial air transport of passengers or for instruction or tests for
a pilot's licence are required to use a licenced aerodrome.

In preparation for the Regulatory Policy Review into ARFF services in 2015-16 (see section
3.4), the Department of Infrastructure and Regional Development published a public
consultation paper that, among other things, compared the levels of ARFF service provision at
airports in comparable countries, including the US and UK as above, as well as Canada and
New Zealand. In all four countries, airport operators are required to provide and to finance
ARFF services as part of their licencing arrangements. Canada, like Australia has passenger
thresholds, above which ARFF is required at an airport, however, their passenger threshold is
180,000, just over half of Australia's threshold. New Zealand require certification at airports
used by aircraft with a passenger capacity of 30 in regular passenger transport and where there
are 700 movements in the busiest consecutive 3-month period.

All these other countries have much lower requirements for providing ARFF services at
airports than Australia.

If Australia adopted the trigger used in any of those countries, many




more airports around the country would require an ARFF service.
MTF...P2