The end is nigh for Oz GA industry?

Via the Oz today:
Quote:

Concerns voiced over civil aviation safety charter overhaul





The Australian


Concerns voiced over civil aviation safety charter overhaul.


Dick Smith with his Cessna Citation plane at Ballina Airport.



Air charter operators are predicting the "complete destruction" of general aviation in Australia as a result of plans to impose airline-equivalent safety standards on their businesses.





As revealed by 

The Australian

 last month, the proposed overhaul of Civil Aviation Safety regulation 135 will require charter operators to hire a safety manager and undertake additional paperwork to meet the higher standard.





Infrastructure, Transport and Regional Development Minister Michael McCormack and Civil Aviation Safety Authority chief executive Shane Carmody said the "revolutionary" changes would improve the clarity of aviation safety regulations.





But Airspeed Aviation chief pilot and managing director Ben Wyndham said the changes would add about $200,000 a year to his operating costs.





"We're already living hand-to-mouth as a result of the privatisation of the airports and the corporatisation of Airservices," Mr Wyndham said.





He predicted of the 500 charter operators in Australia, only a handful would survive by 2021 after the changes took effect.





"There's a lot of little flying schools that have a bit of charter on the side to bring in some extra cash," Mr Wyndham said.





"You're not going to maintain a safety manager, quality manager and have third-party audits to keep one aircraft doing charter. All of those operators will let their charter licence lapse and lose that bit of their revenue."





Aviator and businessman Dick Smith said what CASA was doing was an "impossible ask".





Perth-based Complete Aviation Services chief executive and chief pilot Stuart Burns described the regulatory reform as "soul destroying".





"Most operators impacted by these new regulations are small and medium enter­prises," Mr Burns said. "The attitude taken by CASA is that all these businesses are mainline airlines and should have the same resources and structure as Qantas and Virgin."





Mr McCormack said the changes were "scalable" to the complexity of aviation activity.
Counter that with this load of Horse Pooh from the RAAus Missing Linke - FDS! 

Also via the Oz:
Quote:

Flexible recreational aviation approach helps lift pilot numbers






Light-handed regulation is helping one sector of Australia's aviation industry buck the general decline in pilot numbers, but stakeholders say more flexibility is needed.





In the past five years, more than 1000 new members have joined Recreation Aviation Australia (RAAus), which has its own licensing regime approved by the Civil Aviation Safety Authority.





As a result, RAAus now has almost 10,000 pilots on its books and close to 3500 aircraft.





In contrast, the number of private pilot licence holders with the Civil Aviation Safety Authority has been steadily falling since 2010, to fewer than 16,000.





RAAus chief executive Michael Linke said the regulations under which their members operated were essentially a "carve-out of CASA legislation".





"They've carved out a sector that can self-administer and continue to operate in these different conditions," Mr Linke said. "In terms of safety and adminis­tration, (our regulations) are ­pretty much identical to the CASA rule set but there is some give and take."





That includes the ability for RAAus members to decide for themselves whether they are fit to fly, along with restrictions on where they operate — with controlled airspace and night operations off limits.





They are also limited to carrying one passenger, and aircraft must have a take-off weight of no more than 600kg.





RAAus chairman Michael Monck said the sector still faced significant regulatory challenges.





"In some cases, smaller aircraft operators are held to the same standards as a Qantas or Virgin type of operation, based on the physical characteristics of an aircraft rather than the activities that are undertaken," he said.





He said the industry wanted consideration to be given to the type of people involved in a flight.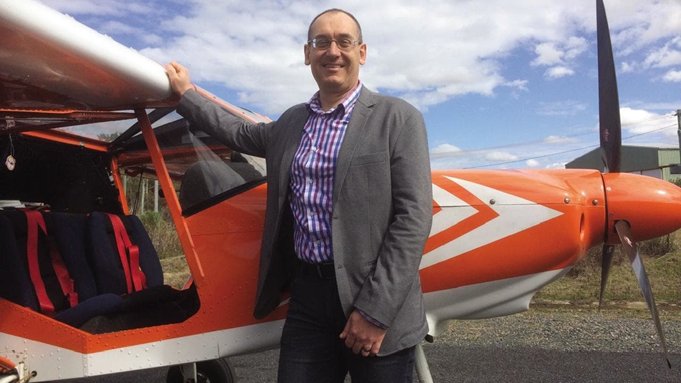 Hmm...??
MTF...P2