Skidmore now the problem
-

  via OzFlying:
Quote:



AOPA stunned over CASA GA Health Comments


30 June 2016

The Aircraft Owners and Pilots Association (AOPA) has hit back at comments from CASA Director of Aviation Safety Mark Skidmore that elements of the general aviation industry are in good health.

In a circular to members, AOPA CEO Aaron Stephenson said that Skidmore made the comments during a meeting between themselves, the Department of Transport and Infrastructure and CASA held in Canberra on 25 May this year.

"My lasting impression of the meeting was that the DAS believes  the GA Industry in Australia 'is in good shape'," Stephenson said.

"We completely disagreed with this assessment. I came away from the meeting convinced this is our single biggest problem. It's collectively our challenge to convince him he is wrong.

"Why we should have to do this beggars belief."

When asked to clarify Skidmore's remarks, a CASA spokesperson told

Australian Flying

"the Director has spoken on a number of occasions with AOPA and other members of the general aviation community about many issues relevant to general aviation.

"During these conversations AOPA have made the claim that general aviation is in decline. Mark has simply asked for evidence and information to support this claim. This information would allow CASA to look carefully at the issues relevant to safety regulation and identify any responses CASA should make.

"When CASA looks at data such as registrations the number of aircraft on the register has been growing over recent years.  In 2010-11 there were 14,362 aircraft on the register, in 2014-15 there were 15,287."

The most current figures available from the Bureau of Infrastructure, Transport and Regional Economics (BITRE) cover the calendar year 2013, and show a growth in general aviation hours flown of 5.3% compared with 2012.

The areas showing the greatest increase were Test and Ferry (14.6%), Aerial Work (11.4%), Training (5.0%) and business (0.6%).

Three sectors showed decreases: Agriculture (-10.4%), Charter (-3.2%) and Private (-0.6%).

In the nine recording years 2005-2013, BITRE figures show that general aviation flying hours increased 12.4% from 3.3 million to 3.7 million per year.
Figures for 2014 and beyond are not yet available.

Read more at http://www.australianflying.com.au/lates...H8lCwOV.99

Pitching stats against CASA is a no win situation, they can simply manipulate the figures to paint the picture they want portrayed.
As an example here are the figures that Pinocchio quotes from BITRE:  
Quote:

Key Indicators



Total hours flown by Australian VH registered aircraft in the General Aviation and Regional Airline sectors were 2 million in 2013, an increase of 5.3 per cent compared with the previous year. Activity in the General Aviation sector rose in 2013, with an increase in flying hours of 2.2 per cent to 1.7 million hours. Regional Airlines recorded an increase of 31.3 per cent in flying hours. Three flying categories showed a decrease in activity—Agriculture (down by 10.4 per cent), Charter (down by 3.2 per cent), and Private flying (down by 0.6 per cent).

Charter and Aerial Work flying made up the two largest activity categories in the General Aviation sector, representing 27.9 per cent and 23.6 per cent respectively of all General Aviation flying hours during 2013. Training hours was the third largest activity category (21.8%). Private and Business flying together represented 20.8 per cent of total General Aviation activity.

In 2013 increases in flying hours in General Aviation were recorded in Test and Ferry (14.6 per cent), Aerial Work (11.4 per cent), Training (5.0 per cent), and Business (0.3 per cent).

The number of aircraft covered by the survey increased 9.3 per cent in 2013 to 13 585. The number of fixed wing, single engine aircraft increased by 7.5 per cent to 9 076, or 66.8 per cent of all registered aircraft in the General Aviation and Regional Airline sectors. Fixed wing, multi-engine aircraft increased by 13.1 per cent to 2 053 (15.1 per cent of the total). The number of helicopters increased by 14.3 per cent to 2 077 (15.3 per cent of the total), with the number of single engine helicopters increasing by 14.2 per cent to 1 850 and the number of multi-engine helicopters increasing by 15.2 per cent to 227.

In 2013, 1 398 amateur-built aircraft accounted for 10.3 per cent of all aircraft in the General Aviation and Regional Airline fleet. This represents a 7.4 per cent increase over the number of amateur-built aircraft in 2012 (1 302 aircraft).

The Australian General Aviation and Regional Airline fleet contains many older aircraft, with the average age being 27.9 years, which is an increase compared to 2012 (27.7 years). A total of 658 thousand hours (or 32.7 per cent of all flying) were performed in aircraft under 11 years old, 388.4 thousand hours (19.3 per cent) in aircraft aged between 11 and 20 years old, 293.1 thousand hours (14.6 per cent) in aircraft between 21 and 30 years old and 670.6 thousand hours (33.4 per cent) in aircraft over 30 years old.

The average age of the Regional Airline fleet increased from 17.4 to 18.7 years between 2012 and 2013. The majority of Regional Airline flying hours are conducted by turboprop aircraft (87.8 per cent), with piston engine aircraft accounting for 2 per cent, and jet aircraft for 10.2 per cent.
Note how the figures above
only
refer to the difference between 2012 & 2013. This, IMO, is very devious and is probably why Skidmore chose to use those figures. To provide balance if we refer to the comprehensive statistics (in the chart that followed) for the decade between 2003-2013, we see a very different picture: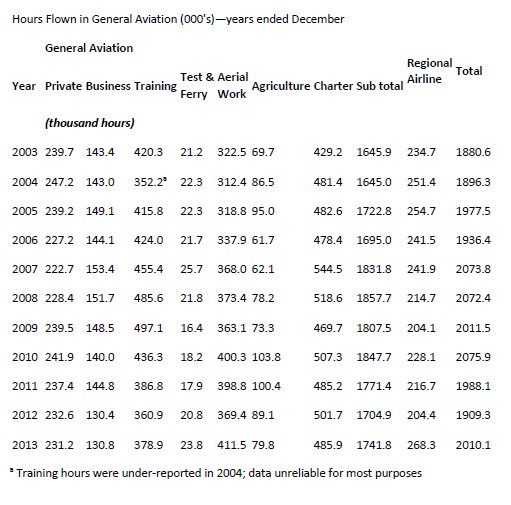 Taking the peak of 2010 and comparing to 2013 there was a reduction of 65,800 flying hours (- 3%). There many examples in there that I can pull out, however if we are talking about GA flying perhaps one of the better indicators of decline IMO is found in avgas sales:
Quote:Aviation gasoline (avgas) fuel sales
 
Aviation gasoline fuel sales (megalitres)
Quarter
Actual Sales
Jun 2012
21.5
Sep 2012
21.0
Dec 2012
20.5
Mar 2013
18.2
Jun 2013
21.3
Sep 2013
19.8
Dec 2013
18.5
Mar 2014
16.2
Jun 2014
18.1
Sep 2014
17.6
Dec 2014
16.9
Mar 2015
15.8
Jun 2015
17.9
Sep 2015
17.2
MTF...P2